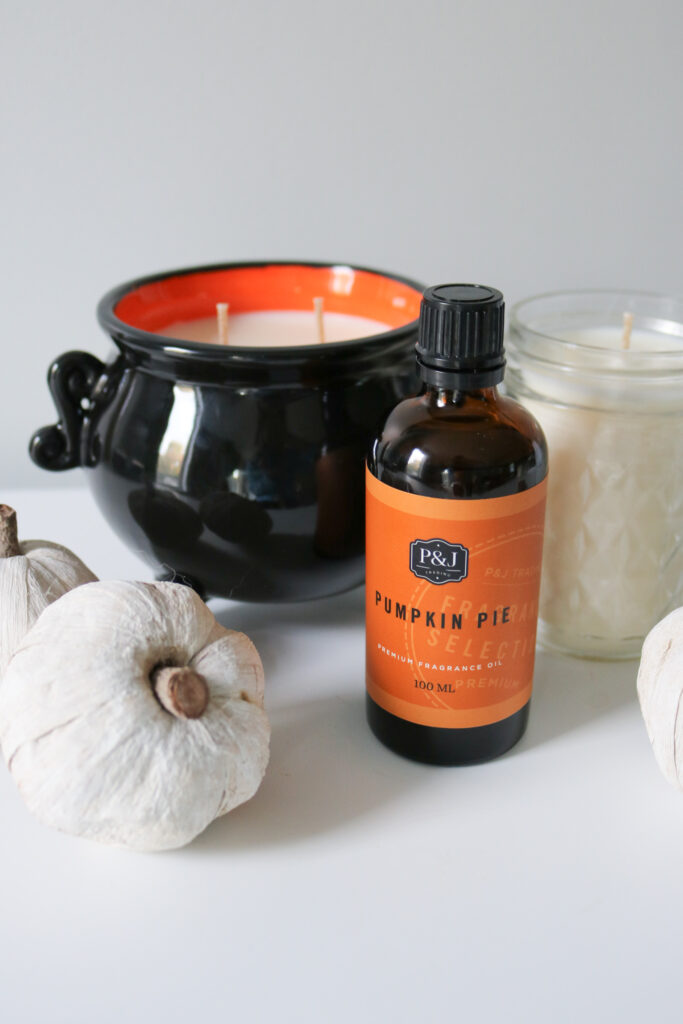 I recently purchased a pumpkin pie oil blend to use with my essential oils diffuser as an alternative to burning my favorite fall candles, but I have way more than I need for this year. So I decided to try making a soy wax candle with it! I previously published a post on how to reuse leftover candle wax to make a new candle, but today I'm updating the process for using new wax and a pumpkin pie essential oil blend.
Materials Needed
Mason jar or other container
How to Make Candles with Essential Oils
Glue the metal base of the wick to the bottom of the candle jar using a hot glue gun.
Place wax scraps in the metal container and then place it in a pot filled halfway with water. This is a makeshift double boiler.
Melt the wax over medium heat, stirring occasionally. I use a wooden kebab skewer so I don't ruin any of my cooking utensils.
After the wax scraps have melted, mix in 30 drops of the pumpkin pie essential oils blend for every 8 oz of candle wax. Stir thoroughly. You can add more or less oil depending on how strong you'd like the scent.
Let the wax cool for about one minute. If the wax is too hot when you pour it into the container, then you will have a dip or valley near the wick because of the way the wax dries.
Slowly pour the wax into the container and hold the wick in place by pinching it with two utensils resting on top of the container or by rolling the excess wick around a pen.
Let the candle cool overnight. Voila! You have a new pumpkin pie scented candle for fall. These make great holiday gifts and make your home smell wonderful.
Other scents I'm eager to try are the marshmallow and night air blends! Let me know how your candles turn out or if you have any scents you recommend!