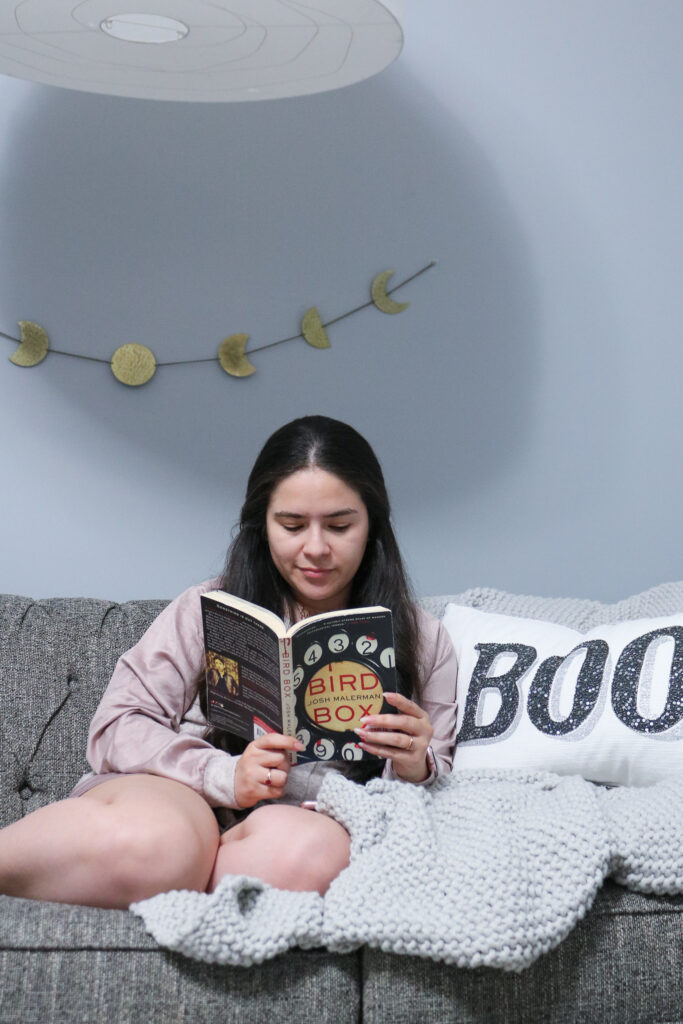 Pajama Top | Knit Throw Blanket | Moon Phase Wall Hanging
I wanted to read 100 books this year but I'm only at 45 right now. Regardless, I want to increase the amount of time I spend reading and I think a good way to keep me accountable is to share a short review of the books I finish each month. I finished 5 books in October thanks to two separate book clubs – another way to keep me accountable! Each one was great for a different reason so I hope you find something to add to your reading list. What are some books you've read recently? Share any recommendations in the comments!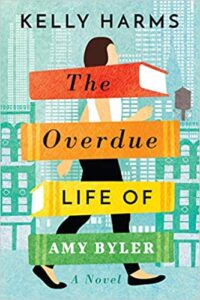 I love a good romantic comedy and I've been devouring them lately! Fortunately, Amazon Prime Reading has an extensive collection available for free with any Prime subscription. I borrowed The Overdue Life of Amy Byler because of the cover art, but read it for all the feels.
Amy's husband, John, abandoned his family to work overseas three years ago, but now he's back home and wants to be part of their lives. He offers Amy the opportunity to spend the summer in New York City discovering herself while he rebuilds his relationship with their kids. Although she's reluctant to leave them in his care, she slowly learns to let go of her need to control everything and allows herself the luxury of being a single woman living in the Big Apple. While exploring the city and uncovering parts of herself she thought were lost forever, Amy learns that it's okay to fall in love with herself…and someone else. This is a great story for any mother (single or otherwise) who feels like they are constantly planning everyone else's life at the expense of living her own.
Favorite Quote: "Do you think forgiveness is a skill learned through practice, like playing chess, or a talent given to you at birth, like singing in tune?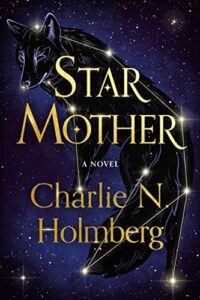 Science Fiction and Fantasy are my favorite genres but add some romance and I'll stay up all night reading. Star Mother fits perfectly into this genre mashup and it was available in last month's Amazon First Reads selection. It was absolutely AMAZING! Seriously. I was crying and laughing and then crying some more.
Stars are celestial beings fathered by the Sun God but they aren't immortal and when one dies, a new one must be born from a mortal womb (a Star Mother). Ceris Wenden had her whole life planned until the Sun God chose her town, Endwever, to provide the next Star Mother. No woman has ever survived the birthing of a star, but Ceris volunteered anyway in order to bring honor to her family. After nine months in the Sun God's palace, her star was born and she miraculously survived. She asks to go back to her hometown but returns 700 years later. Thus beginning her quest to find her descendents. A mysterious godling, Ristreal, guides Ceris to her destination and teaches her about the raging war between the Sun and the Moon, but what they discover is more than just her long-lost family.
Favorite Quote: "There is always strength in pain. It's small and it's hidden, but it's always there."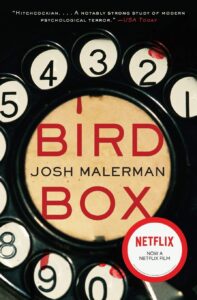 You know I had to read at least one spooky book for October! I watched the Bird Box movie when it first came out and thought it was such an interesting story so I was excited to learn it was based on a book! The book definitely tells a better story (isn't that usually the case?), but the movie did a phenomenal job capturing all the emotion I felt while reading.
Malorie is single and pregnant when the news starts reporting about mass suicide in Asia. The incidents start happening closer to home and she eventually finds her sister dead in the bathroom. Panicked and afraid, Malorie leaves their home in search of help and finds shelter with a few strangers. Collectively, they learn that blindfolds are their only protection against whatever is causing the mass hysteria. Unfortunately, it's only a matter of time before Malorie is left alone with two children. Now she must boat 20 miles downriver while blindfolded in order to find a "safehouse". The story is written with a broken timeline so that you follow Malorie's journey downriver with "flashbacks" to her experience living with strangers. Definitely a page turner!
Favorite Quote: "If they don't know what they do, they can't be 'villains'."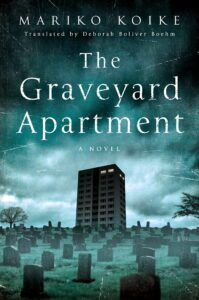 I didn't like this one until about halfway through because of all the character development. There was a lot of backstory before anything spooky actually happened. It was suspenseful but I kept hoping for a shocking plot twist or a gruesome death and then it just fell flat. Still a decent book if you want to read something spooky without fear of having nightmares.
Misao and her husband, Teppei, know a grief and guilt so deep that most people will never experience. Their affair caused Teppei's first wife, Reiko, so much despair that she committed suicide, but working through it together made their relationship stronger. They decide to build a new life together and buy an apartment on the eighth floor of a building that happens to be located next to a graveyard. Not long after they move in, strange things start to happen beginning with the sudden death of their pet bird, Pyoko. Teppei tries to assure Misao that it's all in her head but their daughter, Tamao, claims Pyoko warned her about evil spirits. Is it too late for them to escape?
Favorite Quote: "As long as there is some action to take or some solution to explore, even if those options ultimately come to naught, the mere illusion of possibility can keep people from tumbling into the abyss of despair."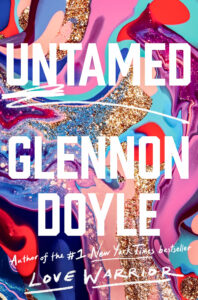 Part One of this was exhausting. It made me dislike the author and I criticized her a lot based on what she shared, but maybe that was her intent? It wasn't until she described how it felt to meet her partner that my heart softened. Glennon's story helped me acknowledge the parts of my personality that were a response to people telling me I was too much; that I needed to act, dress, be a certain way because I was a lady. Truly an inspiring read just like this one.
Untamed is both a memoir and an uplifting call to take control of your own life. Glennon walks us through her experience of denying and discovering herself through struggle and heartbreak. From divorcing her husband to creating a blended family with her wife, Glennon bears her truth unapologetically and takes up space. It's surprising how much of her story can resonate with so many people.
Favorite Quote: "I thought that when life got hard it was because I had gone wrong somewhere. I thought that pain was weakness and I was supposed to suck it up."