Randy Pausch was a science professor at Carnegie Mellon who was diagnosed with terminal cancer in August 2007. One month later, he gave his last lecture, "Really Achieving Your Childhood Dreams," which was about seizing every moment. The novelization of his lecture, co-authored by Jeffrey Zaslow, recounts the stories Randy Pausch shared that day. Stories about overcoming obstacles and managing time. The message is crystal clear throughout the lecture: we don't have time to waste.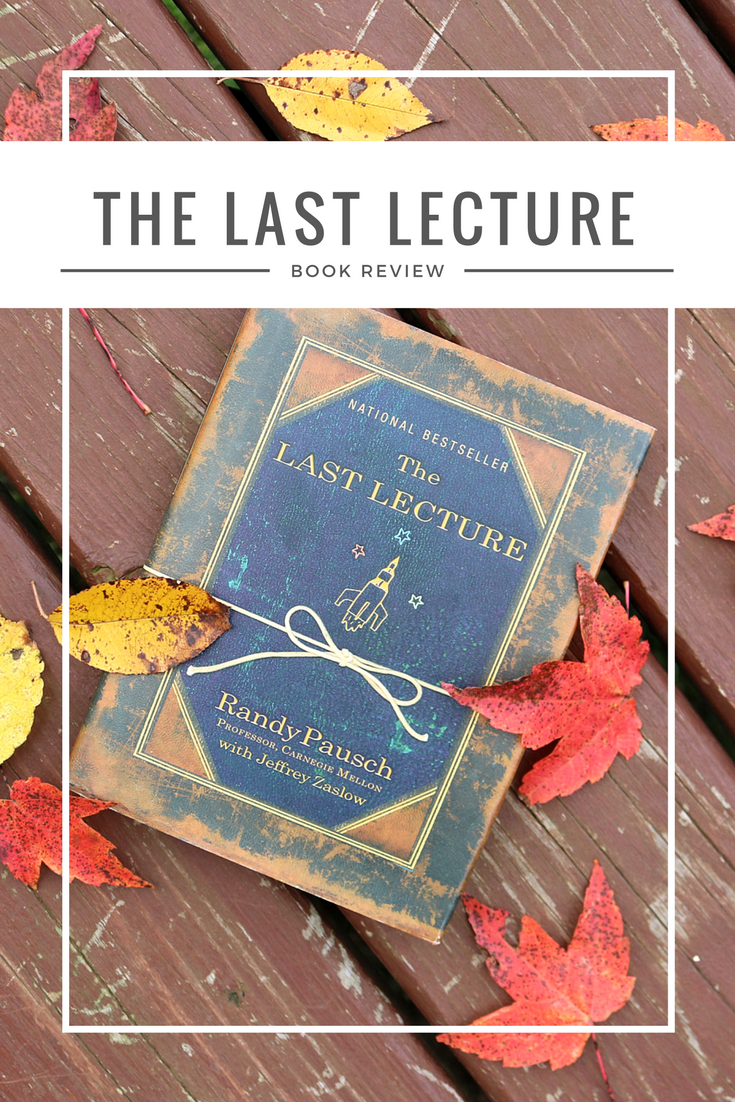 This post contains affiliate links. I earn a small commission (at no extra cost to you) for each purchase made through one of my links. Rest assured! I only share links to products and services I use and love. Enjoy!
I bought The Last Lecture when I was at college because it was featured on one of the tables at Barnes & Noble. I was struggling with engineering school and my insecurities about whether or not I was actually cut out for it. The 13 life lessons I learned from reading Randy's book changed the way I see the world and how I overcome adversity. I hope they can help you build a better life, too.
Lessons from The Last Lecture
"We can't change the cards we're dealt, just how we play the hand."

Do you ever think, "I could totally do that if only…"? If the answer is yes, then say hello to the biggest excuse you tell yourself. Some people blame their failures on their lack of opportunities, but in reality, success isn't about opportunity. It's about action. It takes a lot of time and hard work to succeed. So instead of wishing things were different, start where you are with what you have and hustle like your life depends on it. Because it does.

"Never make a decision until you have to."

There's a difference between quick and hasty decision making. Quick implies that you know what to do without hesitation, whereas hasty suggests that you're impulsive. Don't feel like you have to make an immediate decision. You have time to think things through.

"When you're screwing up and nobody says anything to you anymore, that means they've given up on you."

You want people to criticize you because it means they care. They want to help you improve. They want to see you succeed. But if you push them away too many times, then they'll stop saying anything. It's like when you ask your friend to go somewhere and she always says no. You stop asking because you already know her response. Take the time to let people know you appreciate them. Say thank you instead of getting upset.

"The brick walls are there for a reason. They're not there to keep us out. The brick walls are there to give us a chance to show how badly we want something."

Imagine if everything was easy. There would be no obstacles to overcome so the feeling of accomplishment would disappear as well. Somethings are difficult because it allows people who worked hard to achieve greatness. If there's something you really want, like you absolutely cannot live without it, then give it all you've got because you have everything to lose.

"No matter how bad things are, you can always make things worse."

Have you ever had a bad morning and thought, "Today is going to be a bad day"? Did you also notice how everything got worse as the day went on? Well that's because you already had the mentality that everything sucked. In reality, you had a bad 10 minutes and you milked that sucker all damn day. You have the power to make things better. Instead of accepting defeat, take a moment to collect your thoughts and figure out how to turn the day around.

"Time must be explicitly managed, like money. You can always change your plan, but only if you have one."

I never believe someone who says "I'm too busy" because people make time for the things that are truly important to them. You may think that you don't have time to exercise or take a poetry class or what-have-you, but you do. That time is just spent sporadically browsing Facebook and Instagram because social media steals your time. Go to the store and find a weekly planner. It's the most effective tool you can use to help stay on schedule because you can set deadlines. However, don't shame yourself for slacking off. You can change things up until you find a schedule that works for you. The important thing is that you hold yourself accountable for where you spend your time.

"Time is all you have. And you may find one day that you have less than you think."

Don't spend too much time on things that don't matter. I always take a few minutes to ask myself if something is going to matter in a week, month, or year. It's how I pulled myself out of depression and it can work for you, too.

"Too many people go through life complaining about their problems. If you took one-tenth the energy you put into complaining and applied it to solving the problem, you'd be surprised by how well things can work out."

This pretty much speaks for itself… I remembered this little lesson when I gouged my bumper. I remember getting so angry that it nearly ruined my whole night. Instead, I logically thought through the problem and fixed it.

"Treat the disease before the symptoms."

Focusing on the effects results in hiding the true problem which, over time, can get worse. If you start by correcting the wrong part of the problem, you can end up with a bigger problem later on. Treating the symptoms first, whether it's a medical condition or an addiction, can be a sign of fear. A fear of not knowing if you will get better, but you will never know if you don't try. Dive into the source of the problem and focus on the big picture, not just the little pieces.

"It's not how hard you hit. It's how hard you get hit and keep moving forward."

Rocky, I know, but I never saw that so I learned this from Randy. Overcoming obstacles is a sign of our tenacity. We can prove how badly we want something by breaking down every barrier that stands in our way. If we do not let failure stop us, then our only limiting factor is ourselves. We are better when we strive to improve, to learn, to grow. So, as Walt Disney said, keep moving forward.

"Experience is what you get when you didn't get what you wanted."

Life won't hand you everything you want a silver plate. It won't spoon feed you happiness. You have to work hard to achieve your goals. Yes, you'll fail along the way, but it makes you stronger and smarter. You learn more from failure than you ever will from success. It's the experience from pursuing a dream and failing that helps you realize even bigger dreams. You don't always get what you asked for, but sometimes that's a good thing.

"If you work more hours than somebody else, during those hours you learn more about your craft. That can make you more efficient, more able, even happier. Hard work is like compounded interest in the bank. The rewards build faster."

You must make use of the extra hours, though. Spending an extra hour in the office on Facebook will not get you ahead, but spending an extra hour researching for a report will. You can develop a new skill or learn a new program in the extra time you spend at work. I like to use Codecademy or SkillShare to learn a little bit each day.

"Halfhearted or insincere apologies are often worse than not apologizing at all because recipients find them insulting."

Always apologize with a reason. Don't just say you're sorry because you feel like you have to say it. The recipient wants you to want to say you're sorry because he or she wants you to feel sorry. Honestly, a lot of people think apologies are a sign of weakness or that apologizing gives away their power. What a load of bullshit. People want apologies to feel better. Hearing "I'm sorry" is like a verbal hug. So get off your high horse and apologize to people.
Randy Pausch humorously shares the lessons he learned throughout his life. He's an inspiration to people who want to realize their potential. I highly recommend reading the entire book, or you can download the audiobook from Audible for FREE with a one month trial.