Planning your first cruise can be overwhelming. Not only do you need to figure out where you're going, but after you book the cruise you need to figure out how to get to the cruise ship! Then you need to make sure you're up-to-date on vaccines and travel paperwork. And on top of that you're struggling to pack and deciding what excursions to schedule! Fortunately, I'm here to tell you seven things I learned from my Caribbean cruise which will hopefully make your trip a bit easier.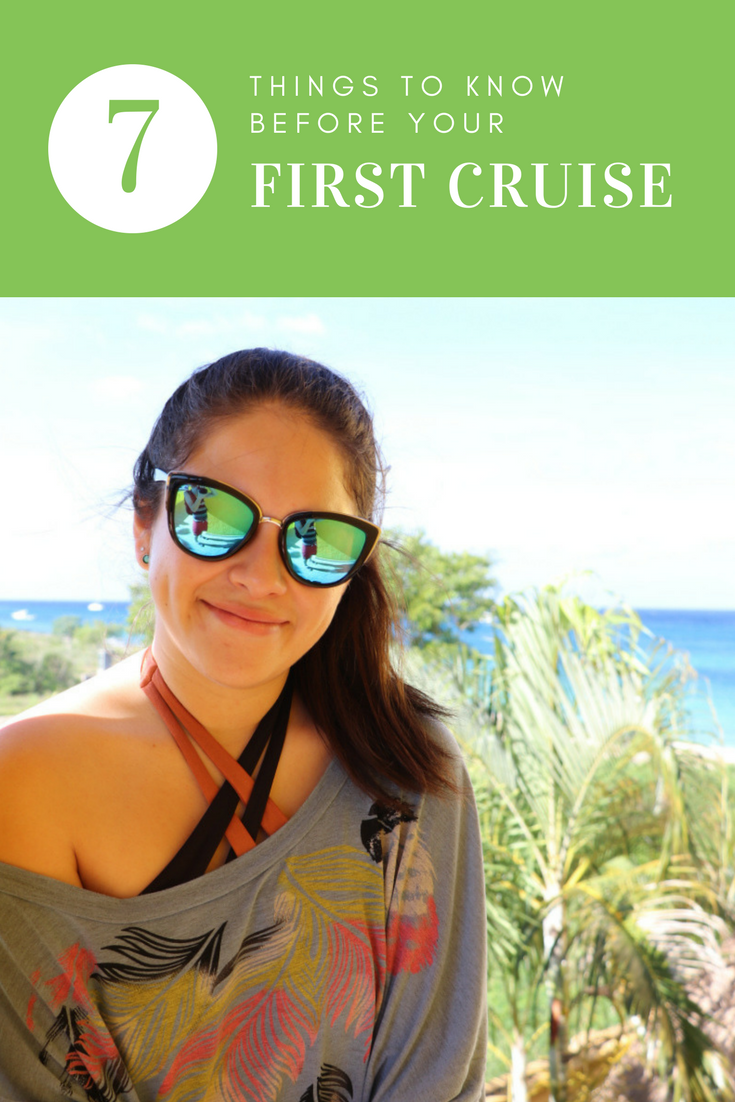 This post contains affiliate links. I earn a small commission (at no extra cost to you) for each purchase made through one of my links. Rest assured! I only share links to products and services I use and love. Thank you for supporting Bold Aesthetic!
1. Choose an Interior Room
Kyle reserved a balcony room for our first cruise together, but we'll definitely book an interior room next time. The price difference can literally save you hundreds of dollars per person. The private balcony just isn't worth it if you spend most of your time up on deck or at one of the many activities on board.
2. Unlimited Beverage Packages
The only beverages included with your cruise fare are water, tea, and lemonade. If you want anything else then you need to charge it to your room. Fortunately, Princess Cruises offer an unlimited Soda Package for $8 per person per day and a Premier (Alcoholic) Package for $60 per person per day. I recommend getting the unlimited Soda Package which includes hot chocolate and milkshakes. Otherwise you'll need to drink about 6 alcoholic beverages per day to break even with the Premier Package. Yikes!
IMPORTANT: These packages CANNOT be purchased for individual days. You need to purchase the package for your entire stay, which means that a Premier Package for a 5-day cruise would cost $300.
3. Take Advantage of Happy Hour
If you want to have alcoholic drinks during your trip, but don't want to shell out hundreds of dollars for the Premier Package, then go to happy hour! Princess Cruises usually have at least one daily happy hour which has a buy one, get one FREE deal. I think Kyle and I had at least 4-5 drinks each whenever we went and it came out to about $35.
4. Don't Buy Souvenirs
The "souvenirs" available at the ports of call are literally the same at every stop. They are cheap trinkets that are severely overpriced and distributed everywhere in the Caribbean. Even the Belize Habanero Hot sauce we fell in love with during our western Caribbean cruise was available online!
If you absolutely need something to remember your trip, then I recommend exchanging money for the local currency.
5. Bring a Sweater
It sounds silly, but a lot of people forget than it can get chilly even while you're sailing in the Caribbean. Especially if you're out on the upper deck at night enjoying the "Movie Under the Stars". It wouldn't hurt to bring a rain poncho or waterproof jacket, too, since it rains pretty frequently.
6. Bring a water bottle
It's nice to have a reusable water bottle during your cruise because it's easier to carry around than a plastic cup of water that you'll most likely kick over by the pool. Plus, you can fill the bottle on-board and take it with you when you go ashore. No need to worry about buying bottled water when you start to get thirsty on shore! I reuse a regular water bottle which easily fits in my small Stitch Fix backpack, but Kyle prefers having a Camelbak backpack.
7. Schedule excursions weeks in advance
I love planning everything in advance – it's part of the Type A personality – but you should always schedule your port excursions weeks, maybe even months, before your departure because they fill-up fast! You don't want to just get off the cruise ship and wing it because that can be very unsafe. You don't know the area and, sadly, people will try to rip you off. Safe yourself the headache and book your excursions online through the cruise line.
BONUS TIP: If you plan on being in the water when you disembark, or even if you're by the on deck pool, I suggest getting a waterproof phone case. Why risk damaging your phone while you're taking amazing sunset pictures on the beach?
Thanks for stopping by!
Adriana xo