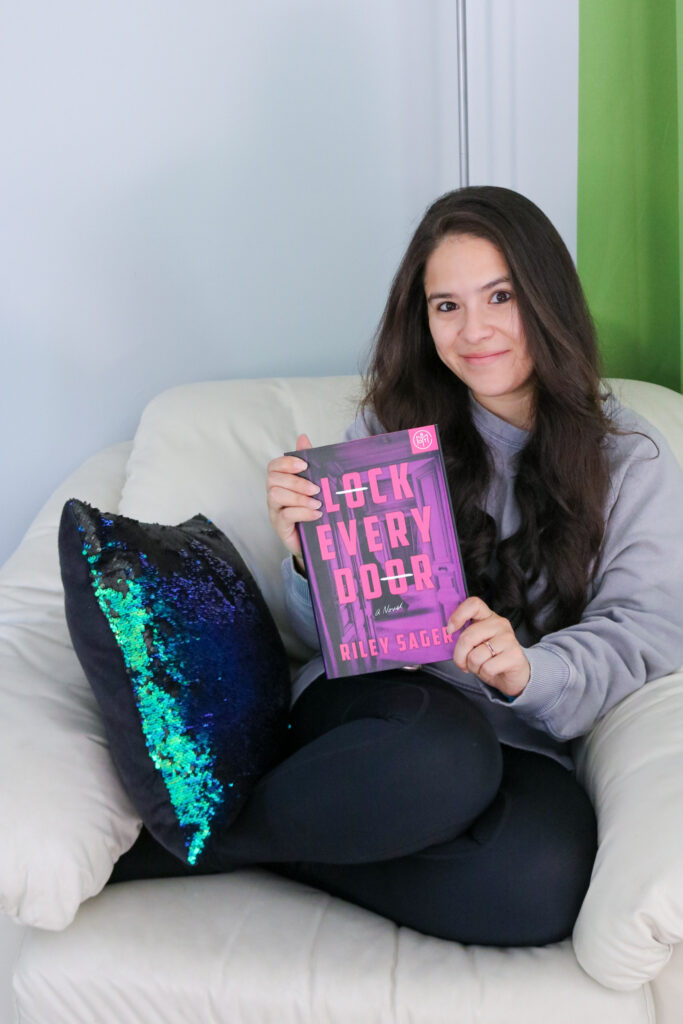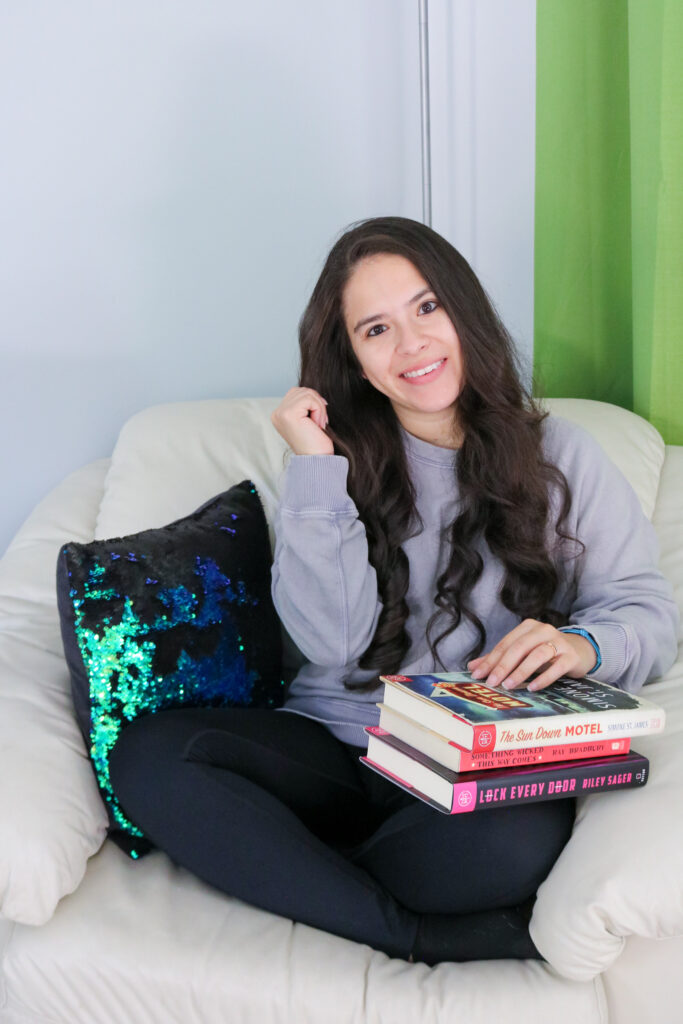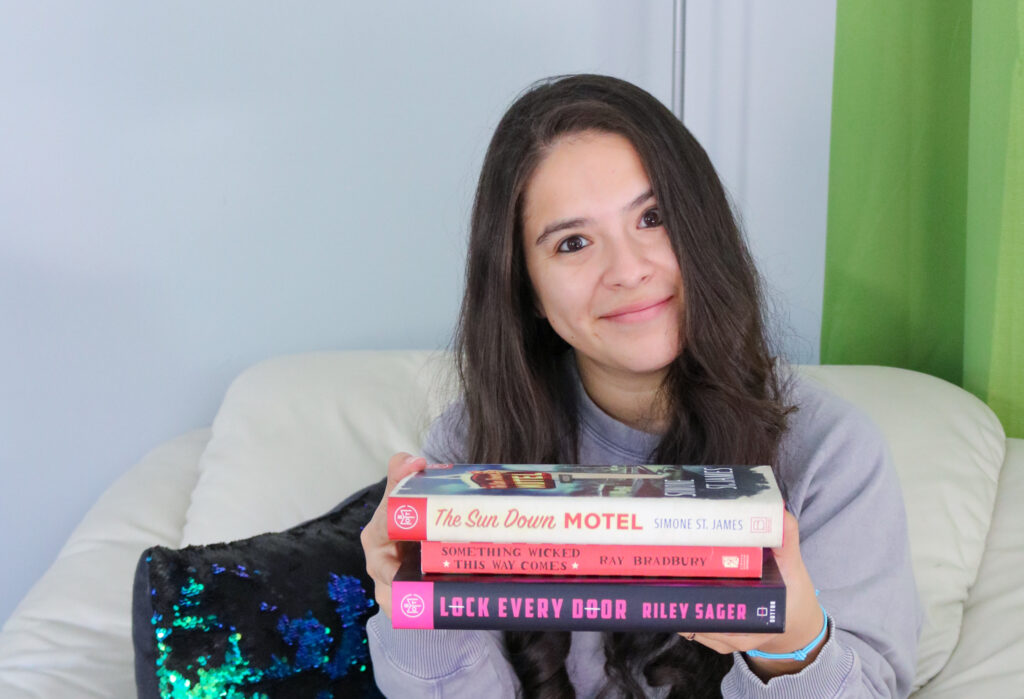 I sorted through my reading list and found that I don't gravitate toward mystery thriller books often as seen here and here. But it's a spooky month, so I decided to pick up a few more and share them with you all! Now put on some comfy loungewear like this comfy grey pullover and prepare to get obsessed with one of these stories.
Jemma can't speak or move because she has severe cerebral palsy, but she observes everything around her. So when a murderer tells her his secret, she's helpless. Until she finds out a new medical device may be able to help her communicate. Now it's a race against time before the killer stops her.
Carly's aunt, Vivian, mysteriously disappeared from the Sun Down Motel before she was born, but Carly hasn't been able to let her go. She decides to investigate her disappearance and moves to the small city of Fell, New York where Vivian lived and worked before she vanished. Soon, Carly finds herself entangled in the same mysteries that claimed her aunt. Vivian's experiences are presented in parallel with Carly's discoveries which means there are two timelines to follow: 1982 and 2017. I don't typically enjoy alternating point-of-views, but the author did really well and kept me guessing at every turn. Be patient, it's worth it!
Elena Abbott is a journalist investigating police brutality in 1970s Detroit, but when she starts investigating a series of murders the police are ignoring, she finds herself battling dark forces that took her husband away years ago.
*This is the first comic book I've ever read! The artwork is beautiful and the theme of police brutality is still relevant today.
I love Ray Bradbury's Fahrenheit 451, so I picked up his classic spooky story to read this year. It's poetic and magical with a dark theme. The carnival arrives after midnight. Its sounds beckoning everyone with promises of dreams fulfilled and youth regained, but two young boys can see the horrible truth. Jim Nightshade and Will Halloway are ready to grow up, but maybe adulthood isn't as great as it's hyped up to be.
Some of the imagery is straight-up scary, but overall the story is actually a bit melancholy. The narrator retells his childhood adventures with a young girl named Lettie Hempstock. They travel through the thick forest of their backyard and discover otherworldly creatures, one of which takes root within the narrator and threatens to destroy his life. It's a metaphorical journey from adolescence into adulthood that made me want to reread it right away to find anything I missed.
*I highly recommend getting this on Audible because Neil Gaiman is a wonderful narrator and brings all of his characters to life.
I've actually never read a vampire story (not even Twilight!), but I can get on board with a lesbian vampire novella. It was published years before Dracula and is totally female-centric. Carmilla, a vampire, preys upon a young girl, Laura, and they become entwined. The characters are well developed despite the novella's brevity, but the relationship between Laura and Carmilla is over-sensualized.
My mother always worries about me getting the evil eye from envious people, so I was excited to read a story named after the same curse. Usha obsesses over her daughter's lack of a significant other, but when her daughter, Pavalli, starts dating Sandeep, she is less than thrilled. After some investigating, Usha believes Sandeep is actually her crazy ex-boyfriend reincarnated. What does he want with her daughter? Is she safe? Usha must expose Sandeep for who he really is before it's too late.
Stan is mourning the loss of his wife and child when he meets Erin, a young girl who claims to have "past life memories" of his wife. Stan, who's struggling to move on with his life, is pulled back in time when Erin reveals his wife's secrets. This is another quick read I picked up from audible and had a crazy ending I wasn't expecting.
Psychologist Margot has a nearly perfect life, but one day she notices one of her clients on a busy train platform and pushes him to his death. We know that's how the story ends, but what led her to do it? And did she push? We meet all her clients through a series of therapy sessions and watch her life start to unravel when one of her clients threatens to reveal her own secrets.
In the future, anyone who is intentionally murdered re-materializes 999 out of 1000 times. No one knows why it happens, but it does. Dispatchers emerged to take advantage of this phenomenon and ensure that people who suffer from life-threatening injuries get a second chance at life. Tony Valdez is a dispatcher, but he's about to learn that not everyone escapes death.
After losing her job and walking in on her boyfriend cheating on her, Jules needed to reset her life. Fortunately, she finds a lucrative job apartment-sitting a luxury apartment in the prestigious Bartholomew building in New York City. She thinks it'll be the perfect opportunity to find a new job and place to live while also making an even $12,000 over three months. I know, right!? It's all rainbows and sunshine until a fellow apartment-sitter goes missing. Now, Jules is discovering the truth about the Bartholomew and experiencing its nightmares first-hand.
Okay, I'll admit it. I have a literary crush on Neil Gaiman. His storytelling is just bonkers. Nobody Owens is a normal boy. Except he lives in a graveyard and is being raised by ghosts. The graveyard is about as safe as you'd expect, but the real danger rests among the living, where Nobody's murderer runs free. The story reminded me of Tim Burton's Corpse Bride, where the living are seen as dangerous.
Five teens are sent to detention and you think, "Hey, this is like The Breakfast Club". WRONG. Someone dies in this one and it wasn't an accident. The four remaining students were supposed to be featured on a gossip site the next day, but guess who runs the gossip site. Yep. Can you solve the mystery? This book honestly left me SHOOK.
Shop the Post
Grey Sweatshirt // Black pocket leggings // Mermaid Sequin Pillowcase