Finances are a struggle. They're the epitome of adulting and not everyone has them figured out. It takes a lot of effort and self-discipline to get your shit together, so I'm going to walk you through a popular financial strategy known as Dave Ramsey's Baby Steps that will hopefully make things easier.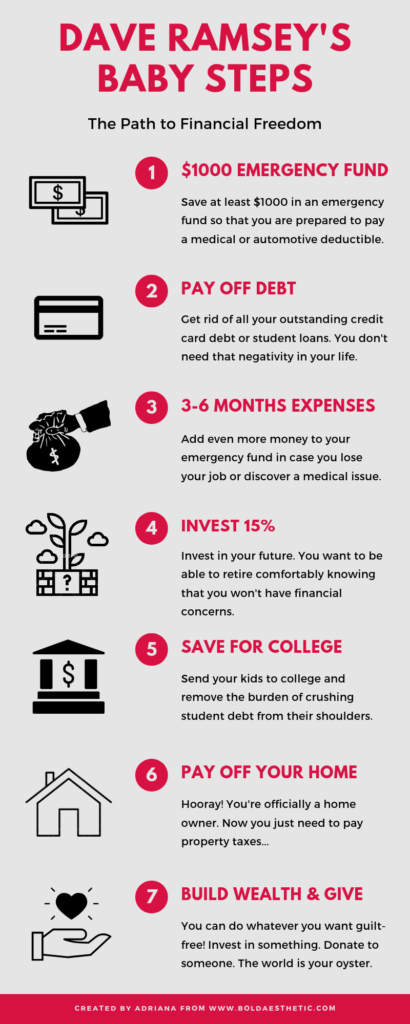 This post contains affiliate links. I earn a small commission (at no extra cost to you) for each purchase made through one of my links. Rest assured! I only share links to products and services I use and love. Thanks for supporting Bold Aesthetic!
Dave Ramsey's book, The Total Money Makeover, has helped numerous people pay off their debt and live financially free. His simple seven step process literally tells you what to do. He doesn't sugar coat anything because he firmly believes that you are the problem with your money. You're in debt because of your spending habits. You're buying things you don't need or you're trying to "keep up with the Jones'" which results in mountains of credit card debt. His strategy helps you make some sacrifices now so you can do whatever you want later.
We buy things we don't need with money we don't have to impress people we don't like.

Dave Ramsey
Follow Dave Ramsey's Baby Steps in order. If you try to do everything at once then it'll feel like you're not making any progress because you're diluting your efforts. The power of focus is what makes his strategy work. So let's get started.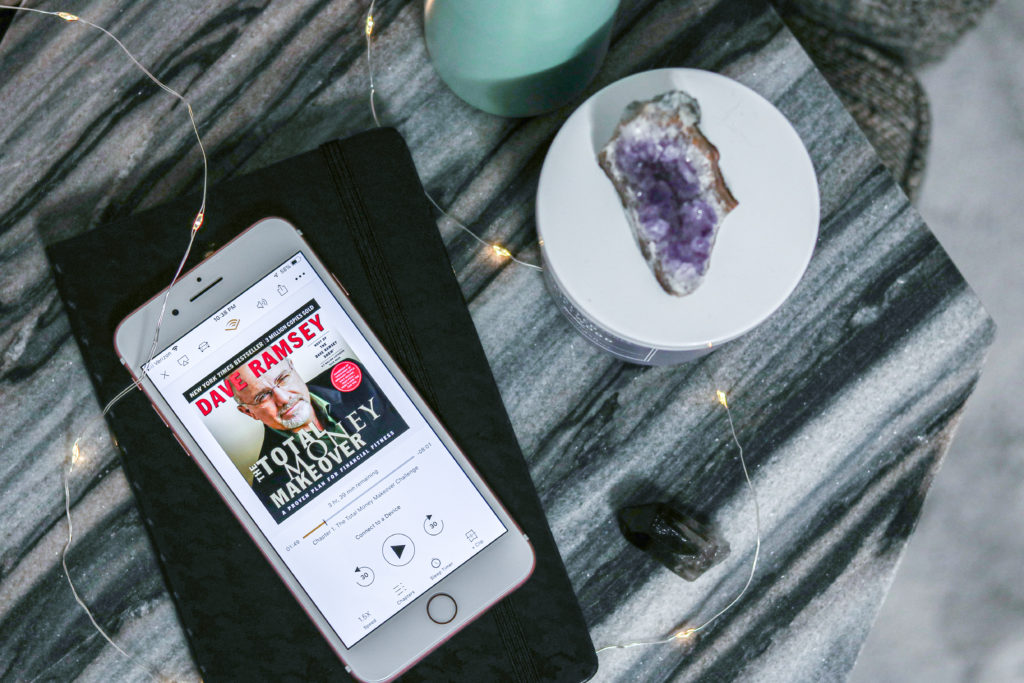 Baby Step #1: Save $1000 in an Emergency Fund
Set up an emergency fund separate from your checking account. I mainly bank with Chase, but my emergency fund and other sinking funds are with Capital One. Dave Ramsey suggests saving at least $1000 because it's enough to cover a medical or automotive deductible.
You don't have to immediately deposit $1000. Start by setting up a budget to decide how much money you can realistically save every single month. Schedule the dollar amounts for basic necessities first, like your rent/mortgage, utilities, transportation, and food. Then write down your mandatory payments for credit cards and student loans. Any money leftover should be funneled into your savings account. Don't worry about paying off your debt just yet. The important part here is that you have a safety net for emergencies.
Baby Step #2: Pay Your Debt
After you have at least $1000 saved for an emergency, you can start the debt snowball. Start by listing your debts from smallest to largest, but don't include your mortgage. Pay the minimum amount to stay current on all debts except the smallest. Every extra dollar you have goes toward the smallest debt until it is paid. Every extra dollar? Yes. The goal is to pay your debt as soon as possible. Once the smallest debt is paid, then the payment from that debt is added to the next smallest and so on until your debt is gone.
Consider these options if you want to pay your debt sooner:
Sell things you don't use or need on eBay
Sell luxury clothing items like purses and shoes on Tradesy
Trade-in your car if you can't pay it off in 18-24 months and get a reliable used car
Work overtime
Get a part-time job
Become a Rover dog sitter
Start a side hustle
Stop retirement contributions even if your company matches them (I highly disagree with this, but Ramsey recommends)
If something happens and you use up some of your emergency fund, then temporarily stop the snowball method and put money back into your emergency fund until you are back to $1000.
Baby Step #3: Save 3 to 6 Months of Expenses
At this point you have $1000 in an emergency fund and zero debt except your mortgage. Now it's time to increase your emergency fund. Depending on your situation, you want to aim for 3 to 6 months of expenses.
49% of Americans can only cover less than one month's expenses if they lost their income.

Dave Ramsey
Again, you want to set a monthly budget and transfer any money leftover into your emergency fund until you reach your goal.
Baby Step #4: Invest 15% in Retirement
Now that you are debt-free and have an appropriate amount of money set aside for emergencies, it's time to save for retirement. The goal here is to invest at least 15% into your 401k. This number does not include company match. YOU should invest 15% of your gross income (pre-tax).
Some people argue that this Baby Step means 15% across all retirement savings accounts (401k, HSA and IRA), but it's actually just 15% into your 401k. The maximum annual contribution for a 401k in 2019 is $19,000.
Saving for retirement is all about security. Since it's likely most millenials won't see a dime from social security, it's up to you to be financially secure for the future. You want to be able to live off 8% of your retirement fund per year once you retire. Remember that you will be completely debt-free at that point, including no mortgage payment.
Baby Step #5: Save for College
College is not a necessity, it is a luxury. You don't need to have a degree in order to work. Does it help in certain fields? Sure. Does every field need one? Nope! Trade Schools are becoming more popular because they're much more affordable and the starting pay is great. But if you want your child to go to college, then save money and pay for their tuition in cash or urge them to apply for scholarships. Student loans are cancer and can carry high interest rates. The average repayment plan is 10 years long!
If your adjusted gross income is less than $95,000, then you can open an Educational Savings Account for your child which is tax-free. You can contribute up to $2000 per year from birth to 18. A 4% return will yield about $50,000 when it's time for them to attend college.
Baby Step #6: Pay off the Mortgage
Become completely debt free and pay your mortgage. Some people think it's worth keeping your home mortgage payment for a tax deduction, but it's not.
Baby Step 7: Build Wealth Like Crazy
Congratulations! You are debt-free and prepared for the future. Now it's time for you to have fun and live a life like no one else.
After you finish Baby Steps 1-6, you are basically free to do whatever you want. You can max out your other retirement accounts (HSA and IRA) or take up property management. This is when you get to decide how to spend your money and how to leave a legacy for your family.
Where We Are
Kyle and I don't agree with everything Dave Ramsey says, but we follow the same general outline of his Baby Steps. We are currently on Baby Step #2 – those student loans are seriously no joke! We purchased a new-to-us 2016 Chevy Volt which replaced our gas guzzling vehicles. It makes the trip to and from work on one battery charge!