Not all emergencies are life-threatening. Sometimes you live in a city overrun with potholes and get three flat tires in less than a month… don't be unprepared. Create an emergency fund today!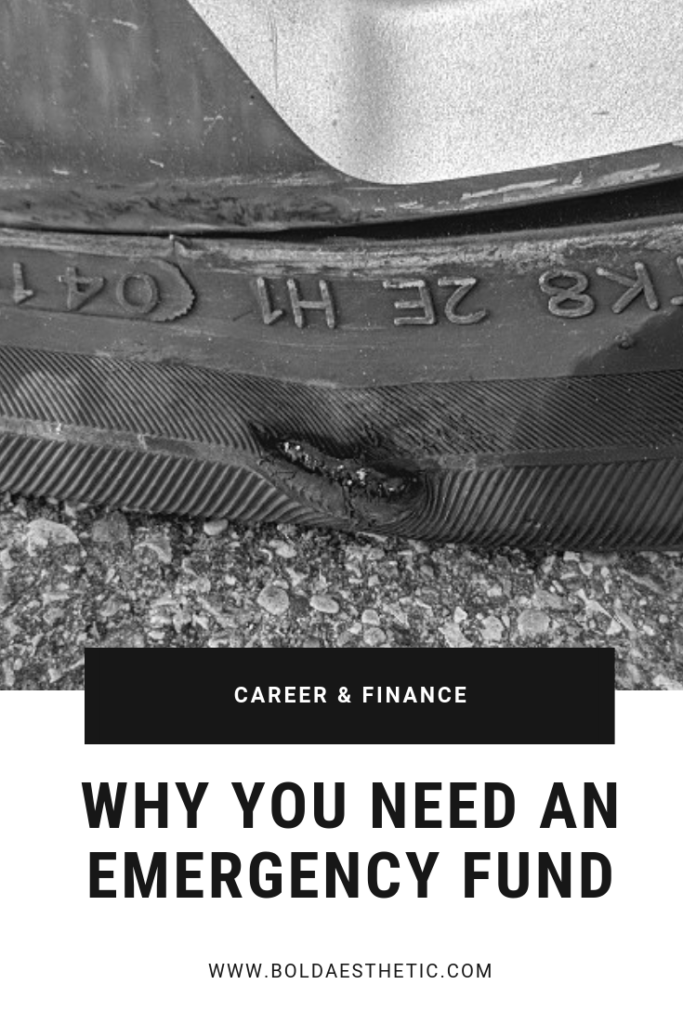 This post contains affiliate links. I earn a small commission (at no extra cost to you) for each purchase made through one of my links. Rest assured! I only share links to products and services I use and love. Thank you for supporting Bold Aesthetic!
What is an Emergency Fund?
An emergency fund is a specific amount of money set aside in case of (you guessed it) an emergency. It's your safety net in case you get laid off or your car breaks down. You do NOT touch this money unless you absolutely need it. If you're tempted to upgrade your home or book a cruise with your emergency fund – don't do it! You can save for specific things like clothes and vacations with sinking funds.
Remember: an emergency fund is like a first aid kit. You may not need it, but do you really want to take that chance?
How Much Money Should I Save?
It depends! A good rule of thumb is 3-6 months worth of living expenses which includes rent/mortgage, food, transportation, and any required minimum payments on credit cards or loans.
Don't freak out if you're just starting out! Aim for a smaller amount like $1000 first. It's enough to cover a car deductible, an emergency room visit, or even a trip to the vet. However, you'll want to continue saving whatever you can because an emergency fund is dependent on your situation. If you have kids or are the sole provider for your family, then you'll need to save more than a single female living with her parents.
Where Do I Put My Money?
Open a separate savings account with a high interest rate so you won't be tempted to spend your money. I use Capital One, but Kyle uses a credit union which has an even higher interest rate.
DO NOT keep your emergency fund in cash hidden away at home. The universe can be cruel sometimes and you may find yourself losing everything you have to a house fire. However, it's generally a good idea to have $50 – $200 easily accessible in case your debit or credit cards are compromised and you can't withdraw money. I keep my "rainy day" stash in this cute unicorn piggy bank.
Have any financial questions or concerns? Ask me in the comments!