Shortly after graduating from college, I was hired as an engineer for one of the top three automotive companies in the United States. This month I celebrate four years with the same company. So today I want to share the lessons I've learned from working at my first job.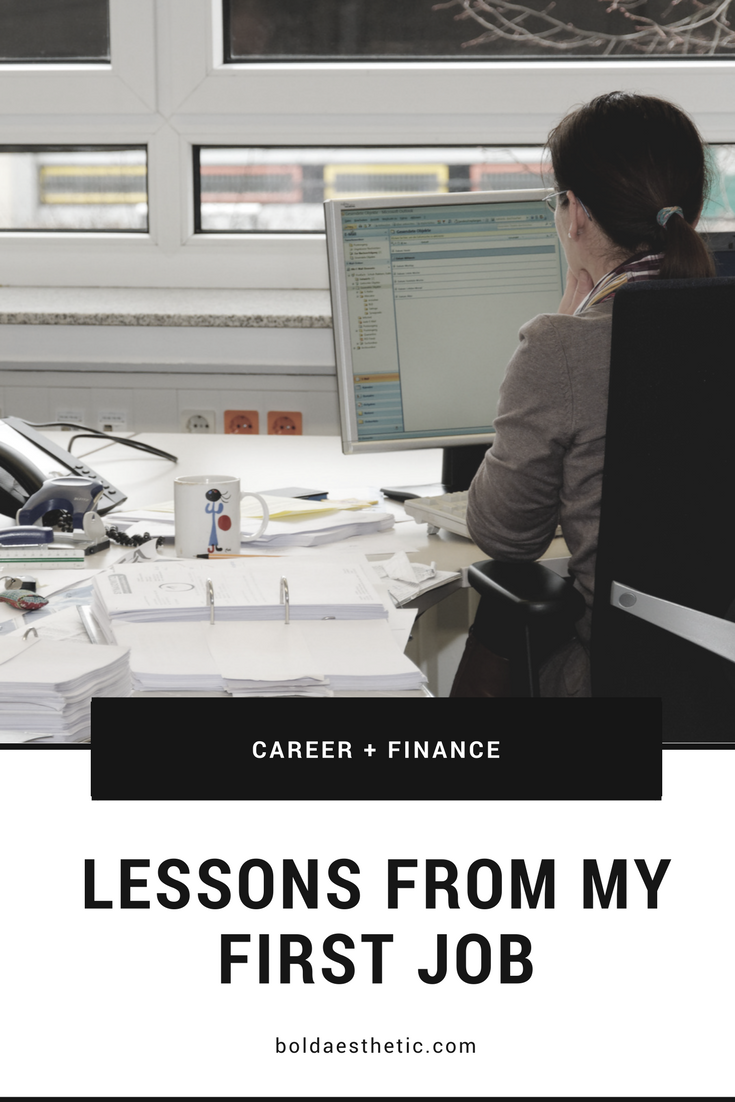 This post contains affiliate links. I earn commission (at no extra cost to you) for each purchase made through one of my links. Rest assured! I only share links to products and services I use and love. Enjoy!
My First Job
Everyone's first job is a memorable experience. I remember my first day felt like the first day of high school. I didn't know anyone and my biggest concern was "Who am I going to eat lunch with?". Hahah, I was so cute. Fortunately, I was placed into a training group with five other wide-eyed college graduates.
During the first four months, I met hundreds of people and took a crash course in every department I was expected to know. Needless to say, it was rather overwhelming. However, I was lucky to have this opportunity because it was the first stepping stone of my career. How many 22 year-olds can say that?
My first "big girl" job taught me important life lessons which helped me develop both personally and professionally. I hope they can help you with your journey, too.
Work hard, but then go home
This seems obvious, but so many people I know take their work home with them. I used to spend so much time worrying about my job that I stayed late and came in early almost every day. I pushed my family away and my boyfriend resented me for never spending time with him. It wasn't long before I burned out and hated everything. Eventually, I learned how to turn off my phone and enjoy my family because, at the end of the day, it's just a job. But what about when you have important things to get done.
Important vs. Urgent
I struggled with completing tasks because I was unorganized and didn't know how to prioritize. I was a disaster. Then I read First Things First which helped me plan better and increase my efficiency. One of the strategies discussed is the Eisenhower Decision Matrix. It defines the difference between important and urgent with a clear distinction between the two. Now whenever someone asks me to complete something, I ask for a deadline.
Own up to your mistakes
Take responsibility for your bad decisions. Don't make excuses or point fingers. Taking responsibility shows that you acknowledge you made a mistake and are willing to learn from it.
Admit what you don't know
In case you don't know, it's never a good idea to pretend you know what someone is talking about because it will bite you in the ass. I learn a lot from technicians that are two pay grades below me and they have endless stories about pretentious engineers who claimed to know more than they actually did. The people you learn from or work with are the people who can make or break you. So always speak up about what you don't understand and politely ask to have it explained.
Learn to say 'No' aka don't be a pushover
It's easy to get wrapped up in trying to please everyone when you're new in the office. However, you don't want to stretch yourself thin and accept everyone's requests. Remember that it's okay to admit you have a lot on your plate. Instead, try to finish some of the tasks you currently have and then ask them if they still need your help later on. They will thank you for remembering they asked for help, and will be more willing to help you in the future as well.
Move sideways
Some people are so determined to get to "the top" yet they don't even know what "the top" is. I've heard stories about people moving up the ladder just to find out they hate their job. Instead, take advantage of lateral, or sideways, promotions.You may not get a pay raise, but the skills and behaviors you learn can take you a long way. Plus, you learn about different areas of the business.
Be a self-starter
Never wait for someone to assign you a task. Within my first week, I learned that no one was going to babysit me. No one was going to check in on me to make sure I had things to do. I asked my manager if I could shadow a co-worker and help with their assignments. He was happy that I took initiative and appreciated that I was able to keep myself busy. The beauty of being a self-starter is that you won't be micro-managed. You earn the "they get shit done" reputation.
Know your worth
It sounds bad, but when you start a new job you want to put in the minimum amount of effort to get your work done on time. If you start as an over-achiever, then it will be harder for you to be recognized for the work you do because excellence will just be expected from you. Your "average" output may be someone else's "above-average", which is why you get the same bonus or pay raise as the co-worker who does half the work you do. So don't let people take advantage of you. Play the game and you'll come out ahead.
Improve your job
Progress is what makes or breaks a company. Once you know how to do your job well, then you should try to actively improve it by creating a tool or compiling a training document. Whoever replaces you will be able to pick up where you left off and then improve it even more. Plus, you can add "implemented (improvement) to (job role)" to your resume.
Recommendations
Over the last four years, I discovered my love for personal development. I love learning new things and improving myself. Some of the tools I use to learn more in less time are:
If you have any recommendations, please let me know! I'd love to know what inspires and motivates you to learn more, too!