There comes a time during the lifespan of every vinyl wrap when a blemish appears. Some blemishes are small and indiscernible while others are large and in-your-face. Unfortunately, I have the latter.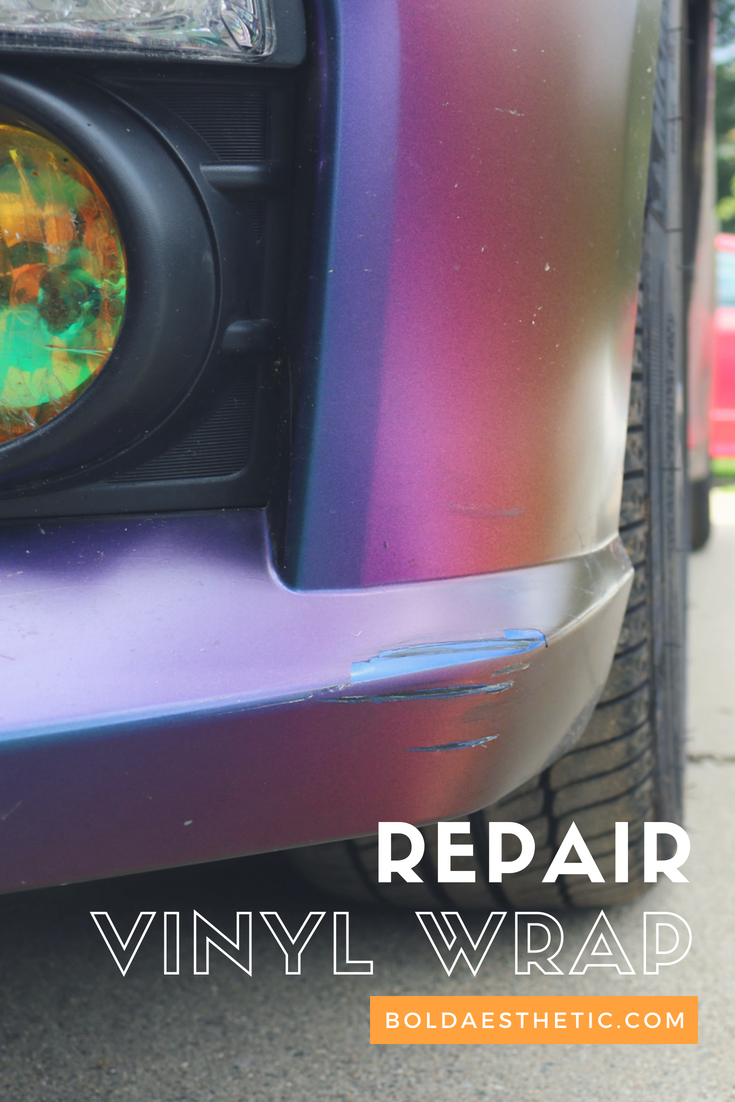 This post contains affiliate links. I earn a small commission (at no extra charge to you) for each purchase made through one of my links. Rest assured! I only share links to products and services I use and love. Thank you for supporting Bold Aesthetic!
The left corner of my front bumper grazed a pile of wood siding on my driveway which left a devastating gouge. The amount of vinyl and paint removed would take a decent amount of money to repair. Since I don't have that kind of money to throw around, I fixed the gouge myself and I wanted to share the process with you!
What You Will Need
The same vinyl used on your car (mine is Avery Dennison Satin Rushing Riptide)
Razor blade or Exacto knife
Spray bottle (optional)
The Proper Way to Fix A Gouge
Let me start by saying that there is a correct way to fix any gouge or scratch on your car. Ideally, you want to sand down the affected area and then apply finishing putty so it's flush with the rest of the car. Then you color-match your paint and apply a clear coat. However, when your car is vinyl wrapped you need to remove the damaged vinyl from the affected body panel first. Then after sanding, filling, and painting, you can re-apply the vinyl. The entire process easily adds up to over $500 and I don't want to pay that when I still need to buy new wheels. So I decided to just patch the area.
How to Repair Vinyl Wrap
The entire process of patching my wrap took about 45 minutes. I'm sure it can take more or less time depending on the type of wrap you have or how perfect you want it done. Either way, you can repair vinyl wrap by patching the scratch or gouge if you follow these eight steps:
1. Clean the Damaged Area
Use a mix of water and dish soap to clean the area with a microfiber towel. It's important to remove any debris, wax, and grease from your car before doing any type of body work.
2. Remove Vinyl Shrapnel
Use a sanding block with wet 2500 grit sandpaper to remove the vinyl shrapnel and level the gouge. Put light pressure on the block and sand horizontally, making sure to keep the area and sandpaper wet. NOTE: some gouges and deep scratches may need a lower grit sandpaper.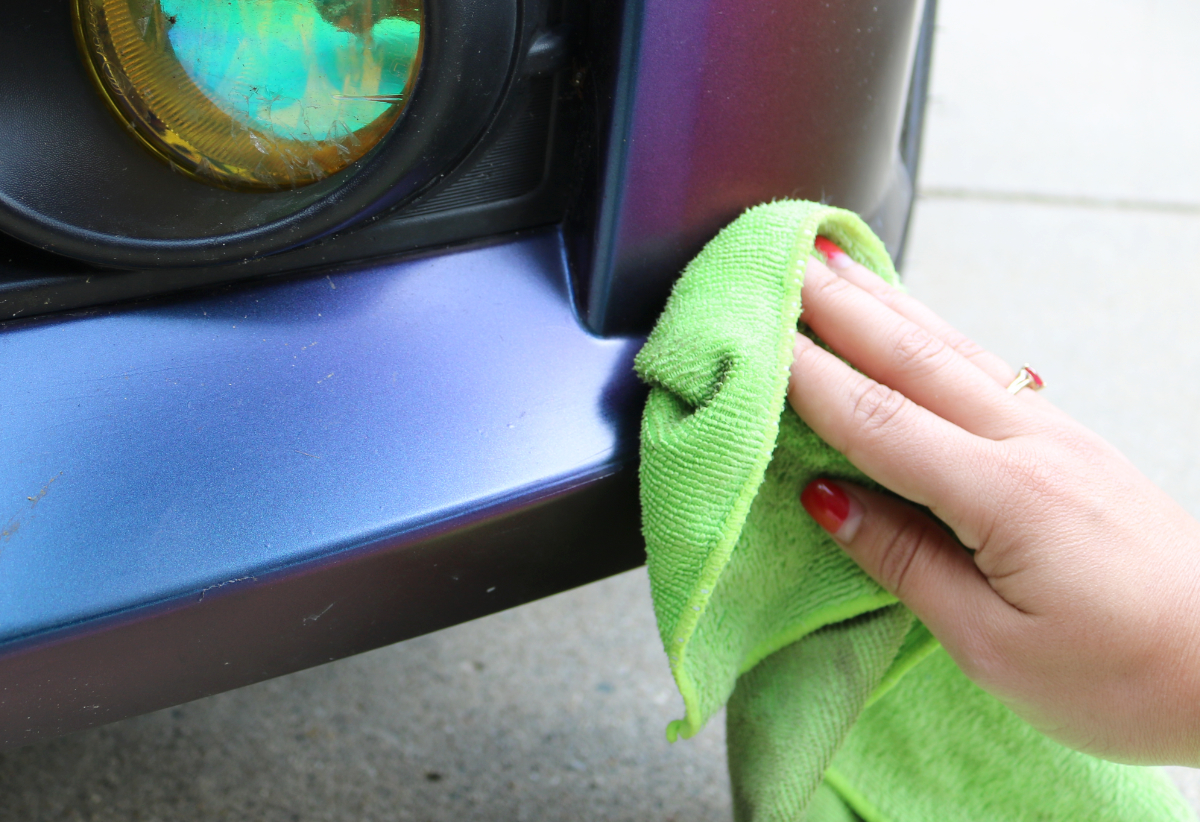 3. Re-clean and Dry
Clean and dry the area using a microfiber towel and water mixed with soap.
4. Measure Vinyl Patch Size
Measure and cut the vinyl needed for the patch. It should be large enough to cover the damage and overlap with a corner if possible.

5. Apply the Vinyl
Remove the backing and use your fingers or a credit card to start applying the middle of the vinyl.
6. Remove Air Bubbles
Work your way up and down, making sure to remove any air bubbles. You can use a heat gun to make the vinyl easier to stretch. However, over-stretching the vinyl can affect the appearance and may lead to tears in the future.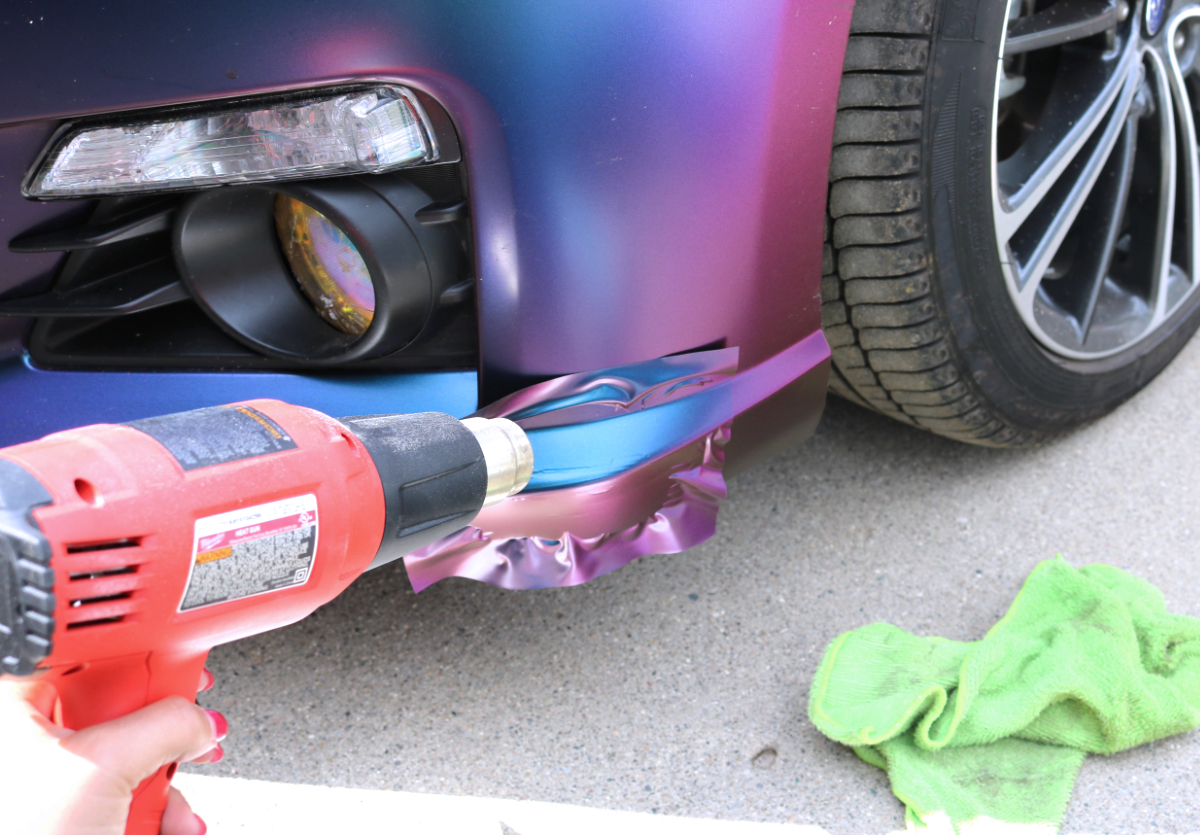 7. Adhere the Vinyl
Once the vinyl is applied, use a heat gun on any stretched surfaces, like curves or creases, to help adhere the vinyl.
8. Remove Excess Vinyl
Finally, use a razor blade or Exacto knife to remove excess vinyl.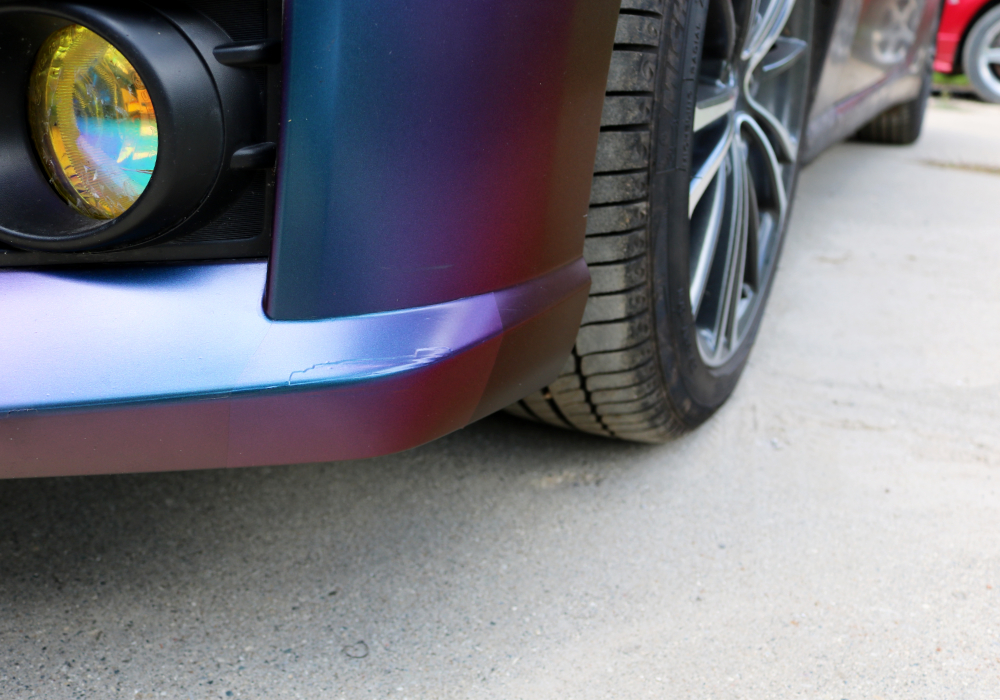 The final result is pretty damn good. Definitely better than a giant gouge exposing the ruined paint. Let me know if you experienced something similar to this! Or if you have suggestions on how to improve my quick-and-easy fix.