Remodeling your home can be both exhilarating and overwhelming, but it doesn't have to be expensive. Instead of scouring DIY home projects on Pinterest, consider picking one room to focus on and create a budget. Kyle and I decided to upgrade our half-bath first because it was the smallest space in our home. Check out the eight simple upgrades we did to completely transform our main floor bathroom on a budget.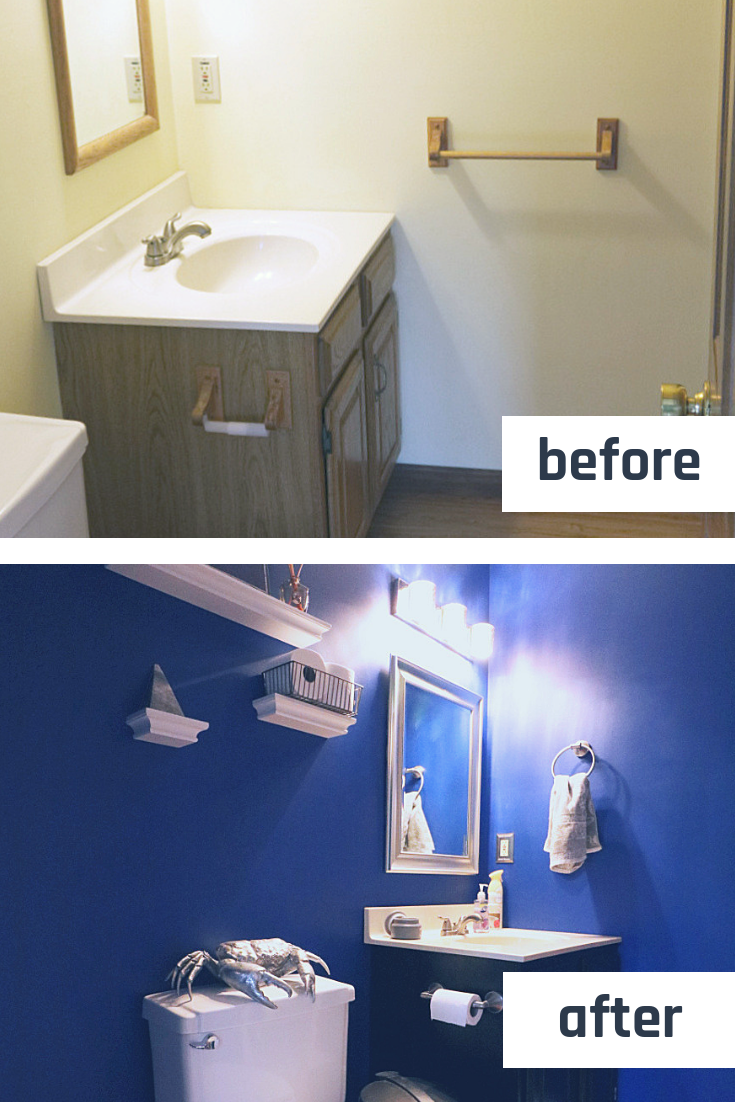 This post contains affiliate links. We earn a small commission (at no extra cost to you) for each purchase made through one of my links. Rest assured! We only share links to products and services I use and love. Thanks for supporting Bold Aesthetic!
1. Get a Bigger Mirror
Mirrors are the easiest and most affordable way to make a room look bigger. We straight-up replaced the mirror in our bathroom because I didn't like the shape. The silver framed mirror is an elegant upgrade from the asymmetrical hexagon mirror we previously had. But you can save some money by repainting the frame on your current mirror.
2. Paint the Walls
 
Don't underestimate the power of a new paint color. Sometimes the farmhouse yellow needs to be replaced with royal blue. I mean, look how elegant our bathroom looks now!
3. Update the Vanity
Home Depot sells bathroom vanities as low as $150. But did you know that you can just paint your existing vanity to get a whole new look? Add a much-needed splash of color to your bathroom or use black wood stain like we did.
4. Change the Hardware
Don't forget about the little things! Switching up the hardware, such as hinges, pulls, and knobs, can make a big difference. We painted over our aged gold hardware with metallic silver spray paint and bought brushed nickel pulls for the vanity.
5. Get a New Toilet Paper Holder
In addition to changing the vanity hardware, consider getting a new toilet paper holder and towel rack. We switched from a towel rack to a towel ring which required a little more work since we had to cover up the former holes.
6. Change the Toilet Seat
Kyle isn't a big fan of the color brown or wood in general. So, replacing the toilet seat was an easy upgrade that made the space feel more modern to him. At least we didn't have one of those squishy foam seats, though. Side note: when did bathrooms become man caves?
7. Replace the Lighting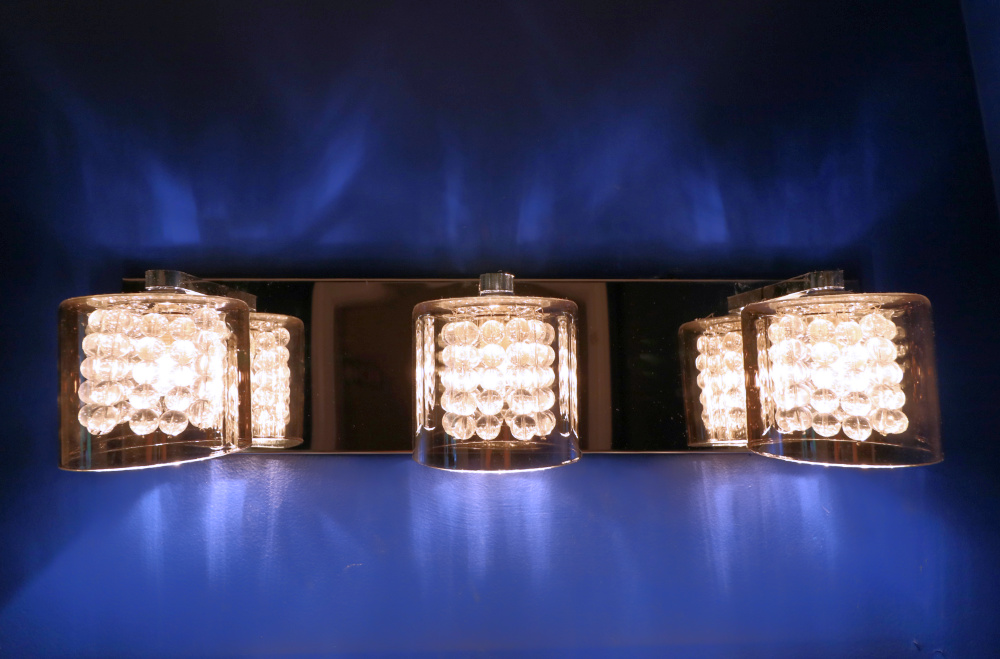 I changed the light fixture to a more glam design, but the bathroom is a bit darker now because it has xenon light bulbs. I definitely recommend switching to brighter LED bulbs to brighten up the space before you consider getting a new fixture altogether. This was the most expensive change we made and, I'm not going to lie, I kinda regret my decision.
8. Install Floating Shelves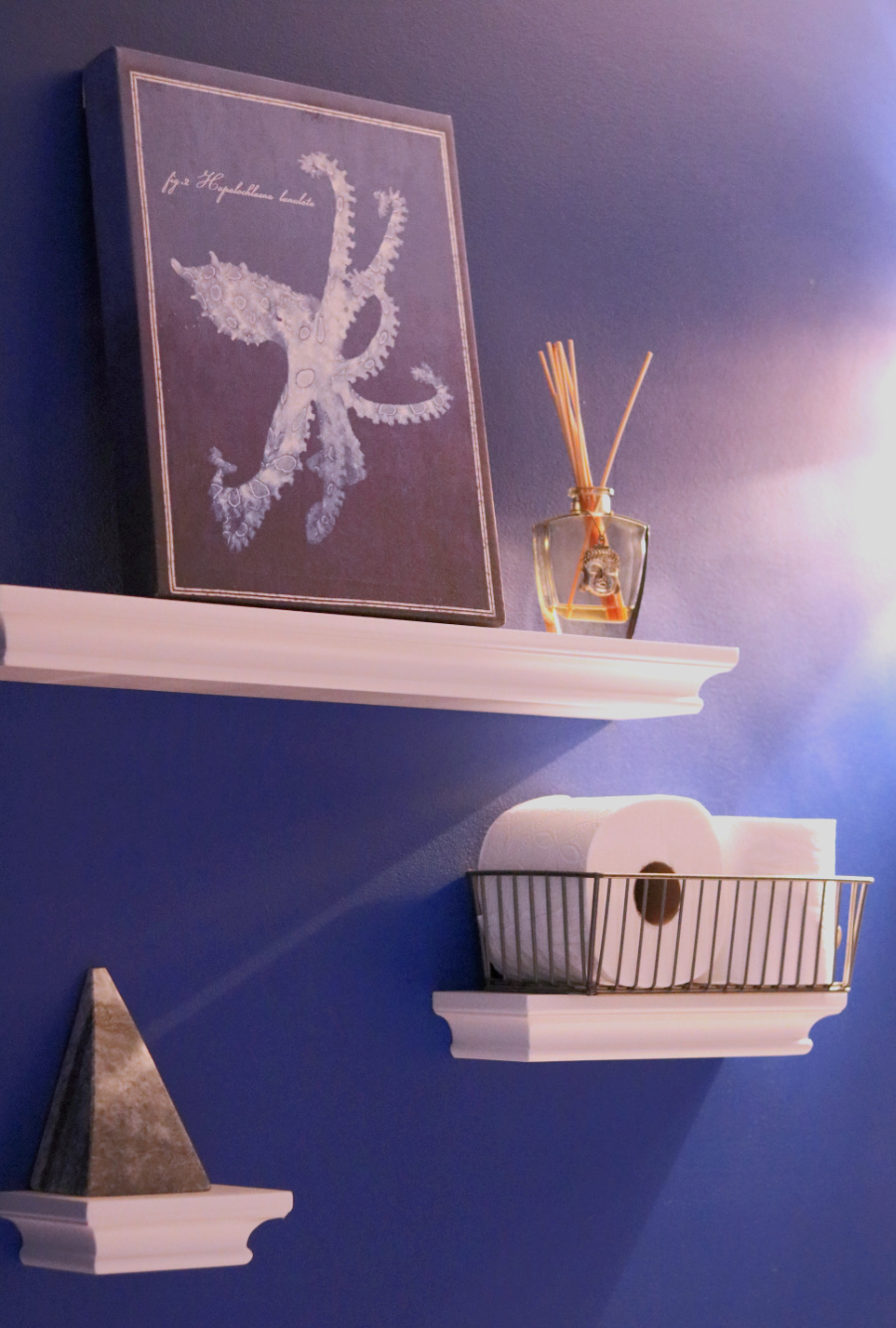 You'll definitely want to keep cleaning supplies and extra toiletries under the sink, but adding floating shelves allows you to showcase your personal style with small trinkets. We stumbled across this small octopus canvas artwork and just ran with the underwater theme. Now I get hotel vibes every time I use the main floor bathroom.
Our Bathroom Remodel Budget
Since I wanted a new light fixture and knew it was going to swallow a big part of the budget, we set aside $300 for the main bathroom remodel. If you're curious how much we spent on what, then you can check out everything I bought below: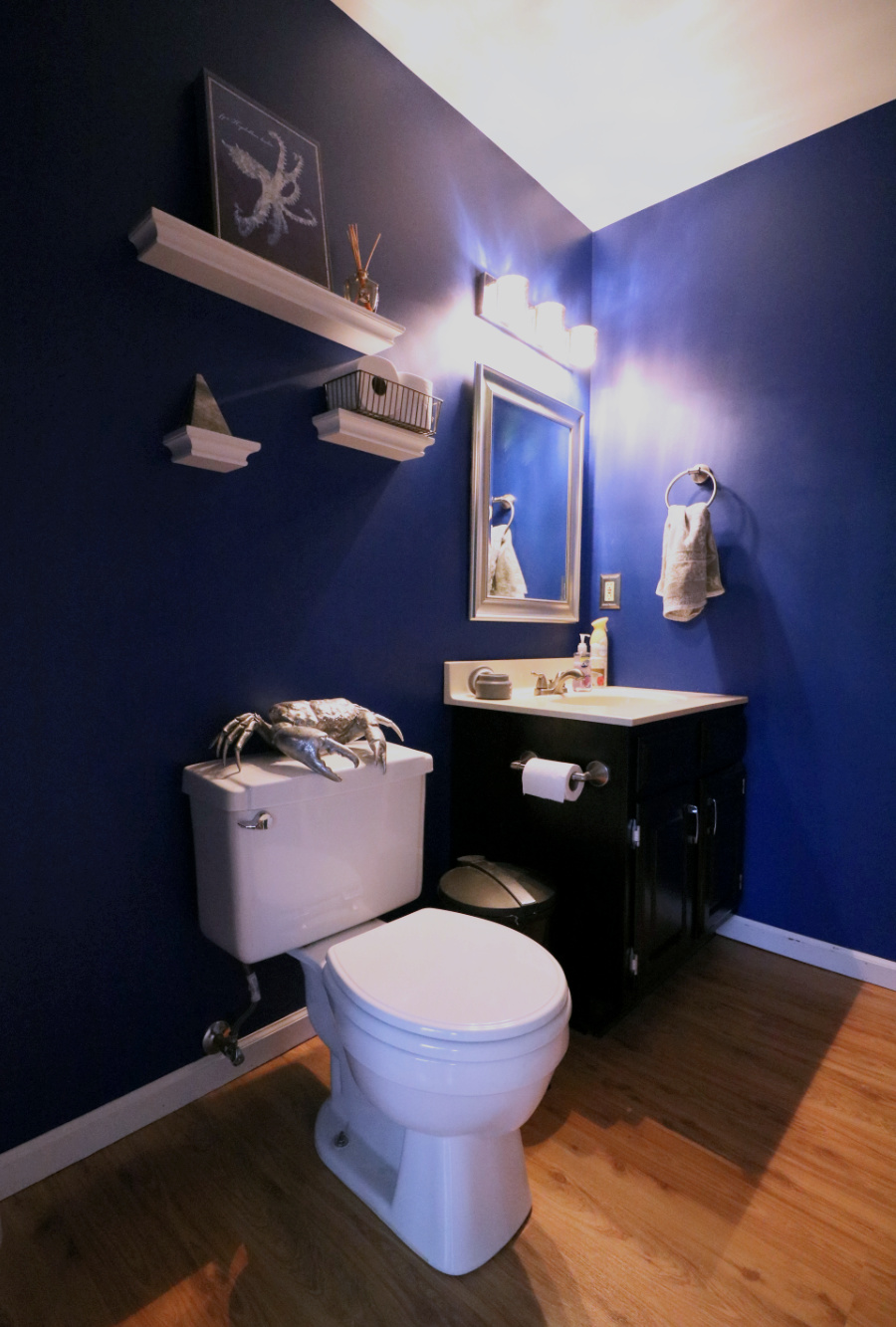 I hope you discovered something you can use for your own remodel! If not, just remember that my style may be completely different than your style. It's just a matter of taking what other people have done and making it work for you. Have a great day!
kthxbai