Hello, darlings! I'm back with a new Stitch Fix review! This month I asked my stylist, Caroline, for an all denim fix. I've always been a jeans girl, so I'm happy fall weather is here! I can comfortably wear jeans all day, every day, without worrying about melting into a puddle from the blistering heat. And we get pumpkin spice lattes, so there's also that.
This post contains affiliate links. I earn a small commission (at no extra charge to you) for each purchase made through one of my links. Rest assured! I only share links to products and services I use and love. Enjoy!
New to Stitch Fix?
Stitch Fix is a chic styling service that makes shopping for clothes simple and stress-free. A personal stylist sends you trendy items catered to your style and requests. The $20 styling fee is used towards anything you choose to keep and you can even set the frequency of shipments to your preference. Signing up is as easy as 1-2-3!
Step 1: Take the Stitch Fix Style Quiz
The Stitch Fix style quiz is the first step in creating your profile. Your personal stylist will use your answers, along with any additional information you provide, to send you 5 hand-picked items. There's an option to link a Pinterest board at the end of the questionnaire, which I highly recommend. It helps your stylist get to know you better! Your stylist will be different for each Fix unless you request the same person in your feedback. It's a good idea to try different stylists until you find someone that "gets you".
Step 2: Receive Your Fix
Five items are delivered to your doorstep on or near a date you select. Try on the items and accessorize with other pieces you already have in your wardrobe. TRY EVERYTHING ON. Even if you don't like something at first glance. You'll be surprised how often an item you swore you hated becomes one of your favorites.
Step 3: Keep What You Love and Send Back the Rest
You only get a few days to provide feedback. This is your opportunity to tell your stylist what you love and how she can do better next time. Be BRUTALLY HONEST with your reviews. It doesn't help your stylist if you say things like "It was nice, but not for me." or "I didn't like the color." You need to be specific if you ever want your Fix to be successful. After you check-out, you can send back the items you're not keeping in the prepaid envelope provided. If you decide to keep everything, though, you get a 25% discount!
See? EASY! If you want to try it out, please let me refer you.
Remember, your first shipment may not be a home run but that's OKAY! Let your stylist know why the items didn't work out and be informative in your note for your next Fix. For example: if you have a hot date coming up but nothing to wear, ask your stylist to put together an outfit for whatever activity you have planned. It helps if you guide your stylist towards what you're looking for instead of just hoping they'll put together something you'll like. Stitch Fix has tons of clothes and accessories in their inventory, so honesty about your wants and needs is EXACTLY what they want to hear from you. You can read my monthly Stitch Fix reviews here.
September Stitch Fix Review
Gorjana Necklace | Suede Ankle Strap Flats
| Glitter Clutch Wristlet
| Sunglasses
The Nine West Begany Ankle Strap Flats and Papermoon Crew Neck Blouse are a perfect match. However, both items are too loosely fit. I feel like my toes are going to pop out of the flats while I'm walking and the top has a maternity feel to it. I'm also wearing the Liverpool Elizabeth Super Skinny Jean (Dark Wash), but they're so long that I have to cuff the bottoms. Some people really like that style, but I prefer perfectly tailored jeans with equally as perfect hemlines.
Speaking of perfect hemlines… I was really uncomfortable with the Just Black Leonora High Rise Distressed Fray Hem Skinny Jean at first. But when I throw on my "vintage" Led Zeppelin t-shirt (courtesy of my high school boyfriend circa 2004 – thanks, Ben!), I have ALL OF THE HEART EYES. This is my favorite go to look for running errands, especially with the Lucky Brand Aviee Lace Up Flats
 which are PERFECT for fall.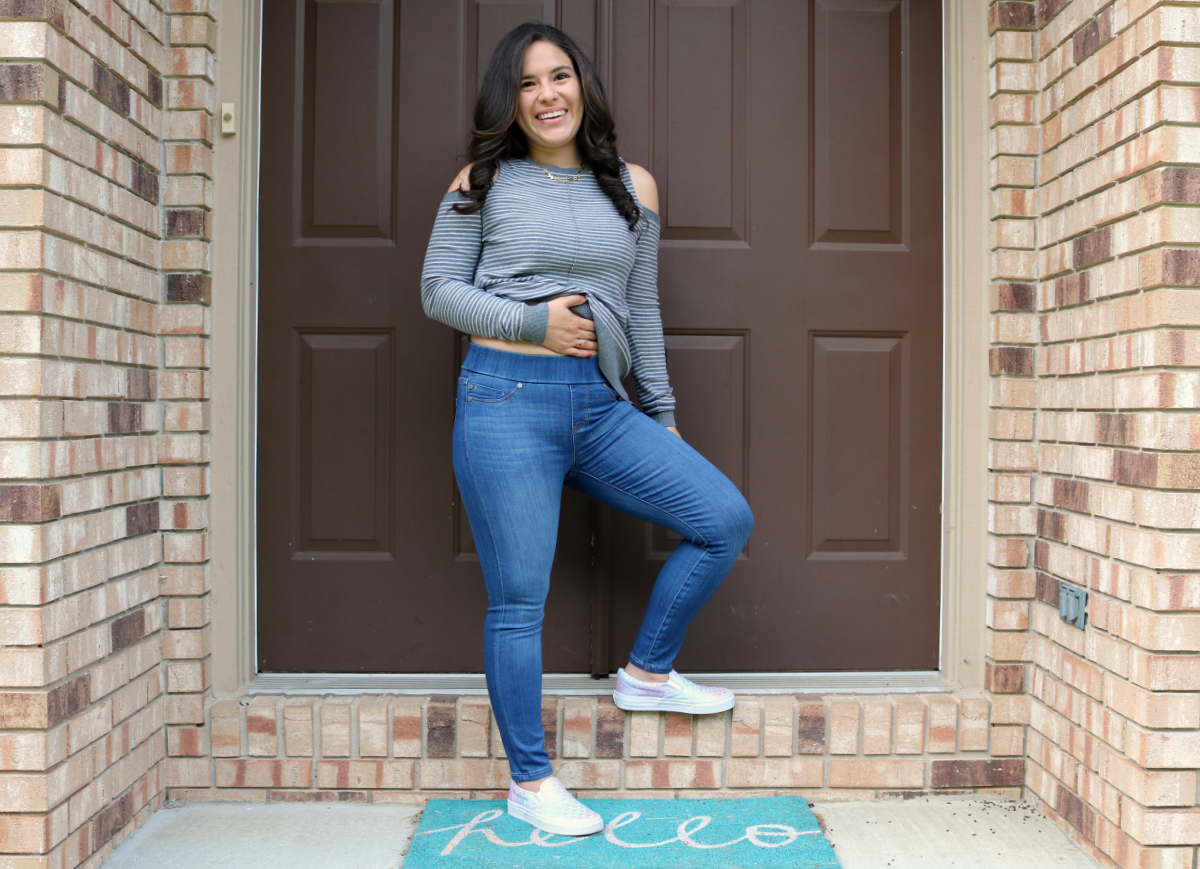 Gorjana Necklace | Cold Shoulder Sweater | Vans Sneakers
Lastly, Caroline sent a light wash and short inseam version of the Liverpool Elizabeth Super Skinny Jean. This pair has an elastic waistband which is perfect for the soon-to-be mother or, y'know, people like me who don't want to feel guilty after eating a full pint of ice cream while binge-watching season 7 of Game of Thrones.
What's the Verdict?
I'm not too impressed with my "all denim" fix. But Caroline did push me out of my comfort zone by sending me the perfect distressed denim with a frayed hem – something I would never pick myself.
Nine West Begany Ankle Strap Flat – RETURN
Papermoon Crew Neck Blouse – RETURN
Just Black Leonora High Rise Distressed Fray Hem Skinny Jean – KEEP
Liverpool Elizabeth Super Skinny Jean – KEEP
Liverpool Elizabeth Super Skinny Jean (Dark Wash) – RETURN
What do you guys think about frayed hems? Trend of the moment or here to stay? What pieced did you love?