It's time for a new Stitch Fix review! The days are getting shorter and colder, so you can tell fall is in full swing here in the mitten. I asked my stylist, Caroline, to help me prep for the season so let's review what she sent!
This post contains affiliate links. I earn a small commission (at no extra charge to you) for each purchase made through one of my links. Rest assured! I only share links to products and services I use and love. Enjoy!
New to Stitch Fix?
Stitch Fix is a chic styling service that makes shopping for clothes simple and stress-free. A personal stylist sends you trendy items catered to your style and requests. The $20 styling fee is used towards anything you choose to keep and you can even set the frequency of shipments to your preference. Signing up is as easy as 1-2-3!
1. Take the Stitch Fix Style Quiz
The Stitch Fix style quiz is the first step in creating your profile. Your personal stylist will use your answers, along with any additional information you provide, to send you 5 hand-picked items. There's an option to link a Pinterest board at the end of the questionnaire which I highly recommend. It helps your stylist get to know you better! Your stylist will be different for each Fix unless you request the same person in your feedback. It's a good idea to try different stylists until you find someone that "gets you".
2. Receive Your Fix
Five items are delivered to your doorstep on or near a date you select. Try on the items and accessorize with other pieces you already have in your wardrobe. TRY EVERYTHING ON. Even if you don't like something at first glance. You'll be surprised how often an item you swore you hated becomes one of your favorites.
3. Keep What You Love and Send Back the Rest
You only get a few days to provide feedback. This is your opportunity to tell your stylist what you love and how she can do better next time. Be BRUTALLY HONEST with your reviews. It doesn't help your stylist if you say "It was nice but not for me" or "I didn't like the color." You need to be specific if you ever want your Fix to be successful. After you check-out, you can send back the items you're not keeping in the prepaid envelope provided. If you decide to keep everything, though, you get a 25% discount!
See? EASY! If you want to try it out, please let me refer you.
Remember, your first shipment may not be a home run but that's OKAY! Let your stylist know why the items didn't work out and be informative in your note for your next Fix. For example: if you have a hot date coming up but nothing to wear, ask your stylist to put together an outfit for whatever activity you have planned. It helps if you guide your stylist towards what you're looking for instead of just hoping they'll put together something you'll like. Stitch Fix has tons of clothes and accessories in their inventory, so honesty about your wants and needs is EXACTLY what they want to hear from you. You can read my monthly Stitch Fix reviews here.
October Stitch Fix Review
Caroline sent me the best blush ballerina flats in one of my previous Stitch Fix shipments, but they were the wrong size. However, she managed to send the same style in a different color which are perfect for fall. I paired them with the faux suede moto jacket and striped pullover she sent me.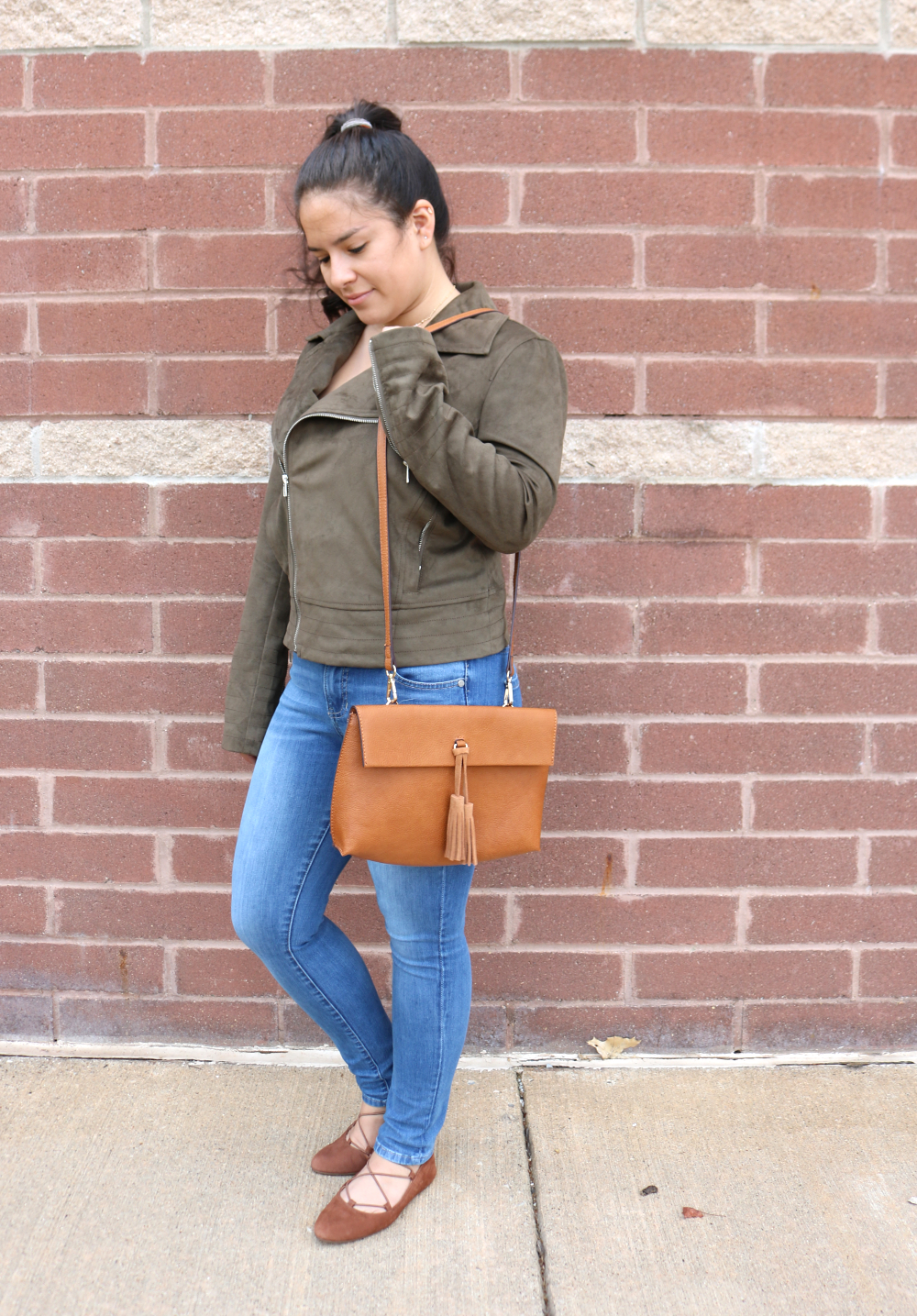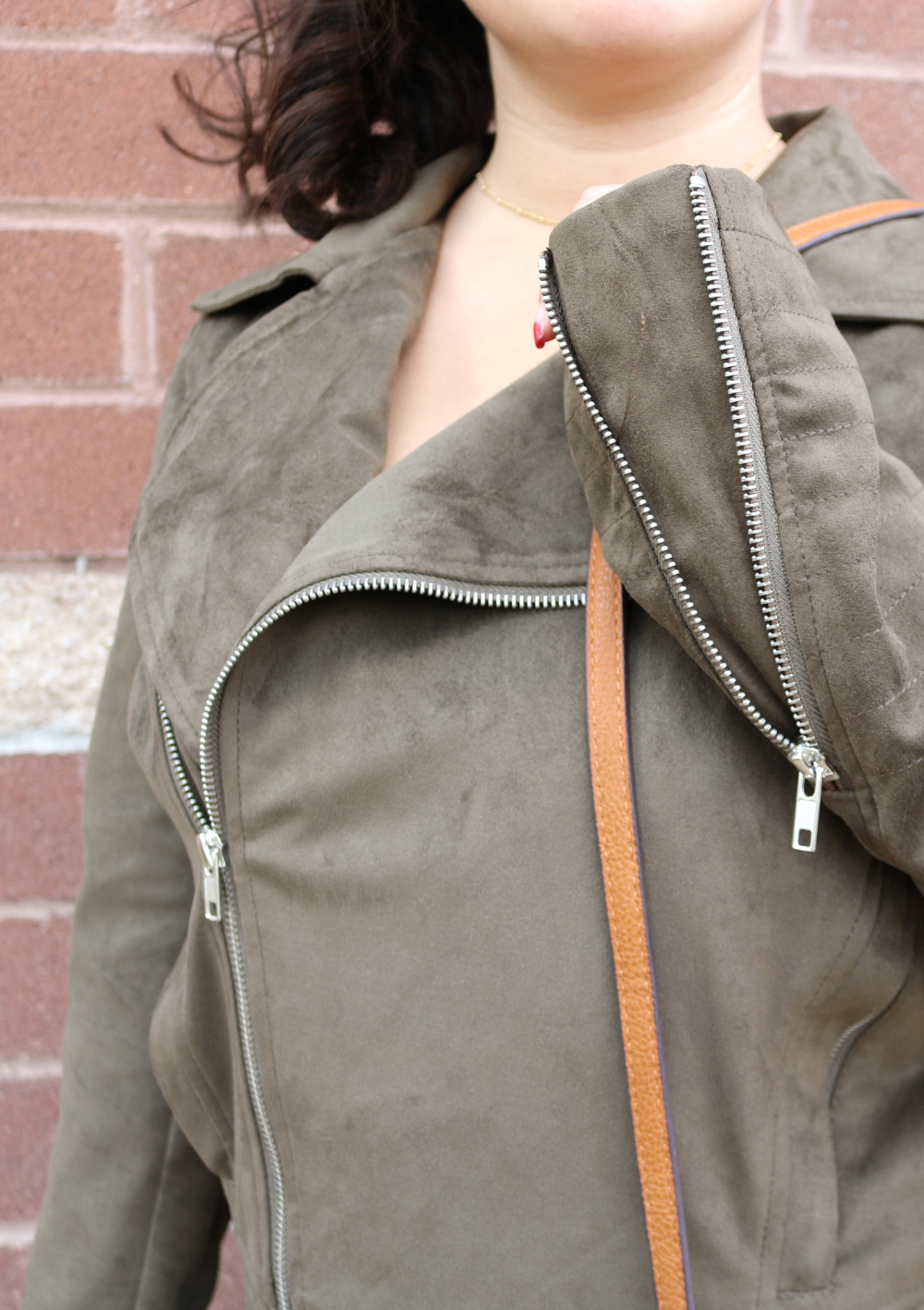 Moto Jacket (similar) | Crossbody Bag (similar) | Skinny Jeans | Ballerina Flats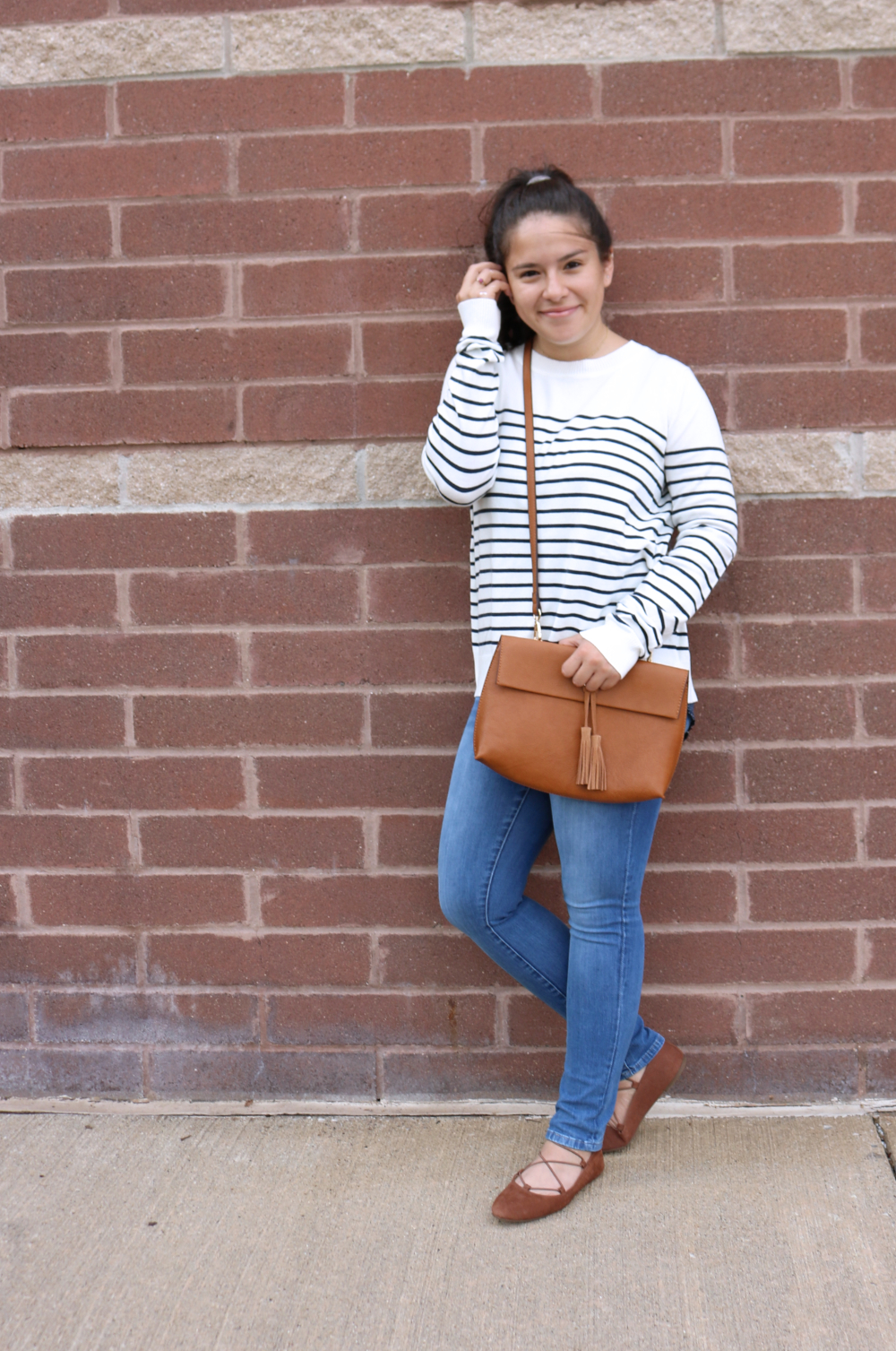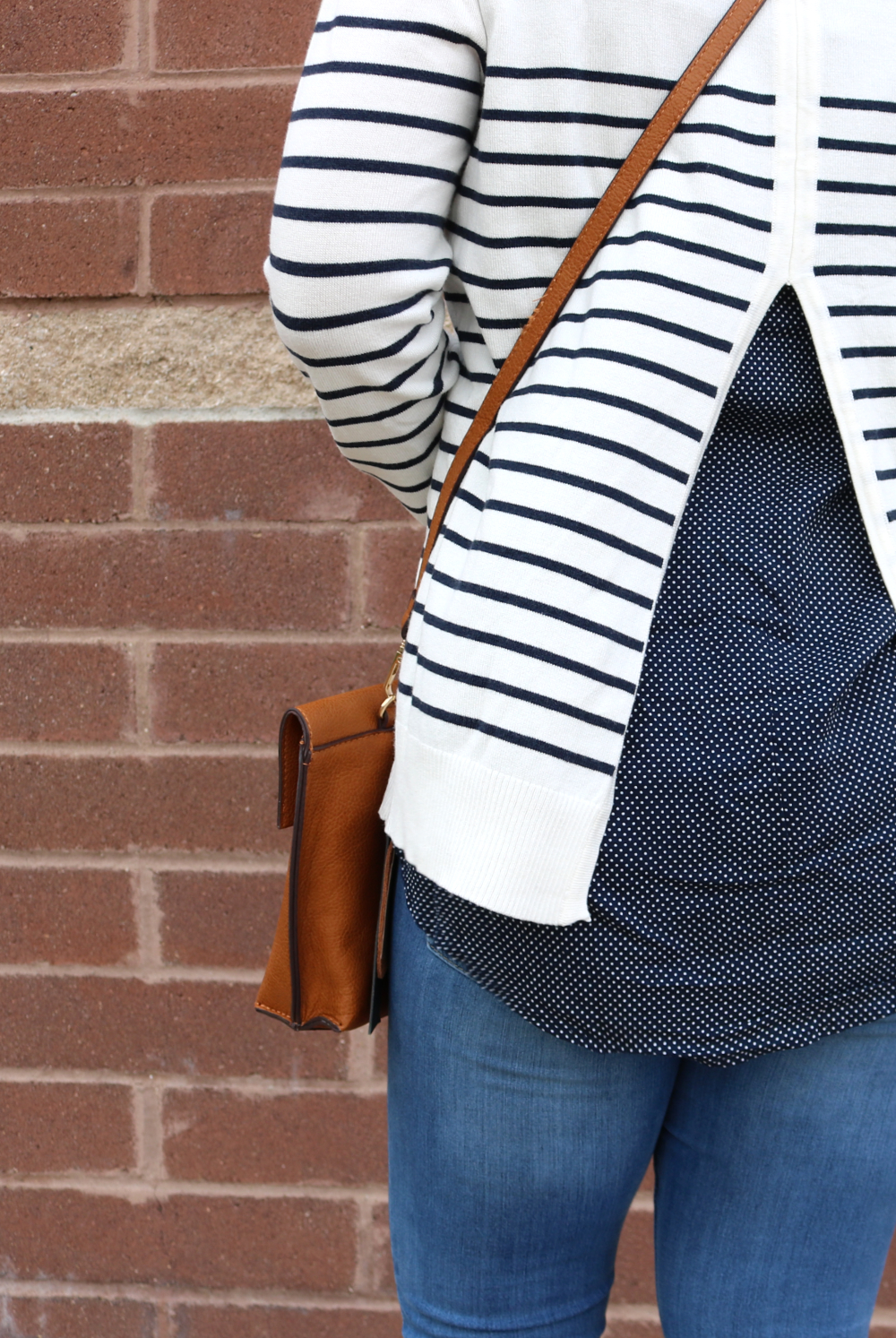 Striped Sweater (similar) | Crossbody Bag (similar) | Skinny Jeans | Ballerina Flats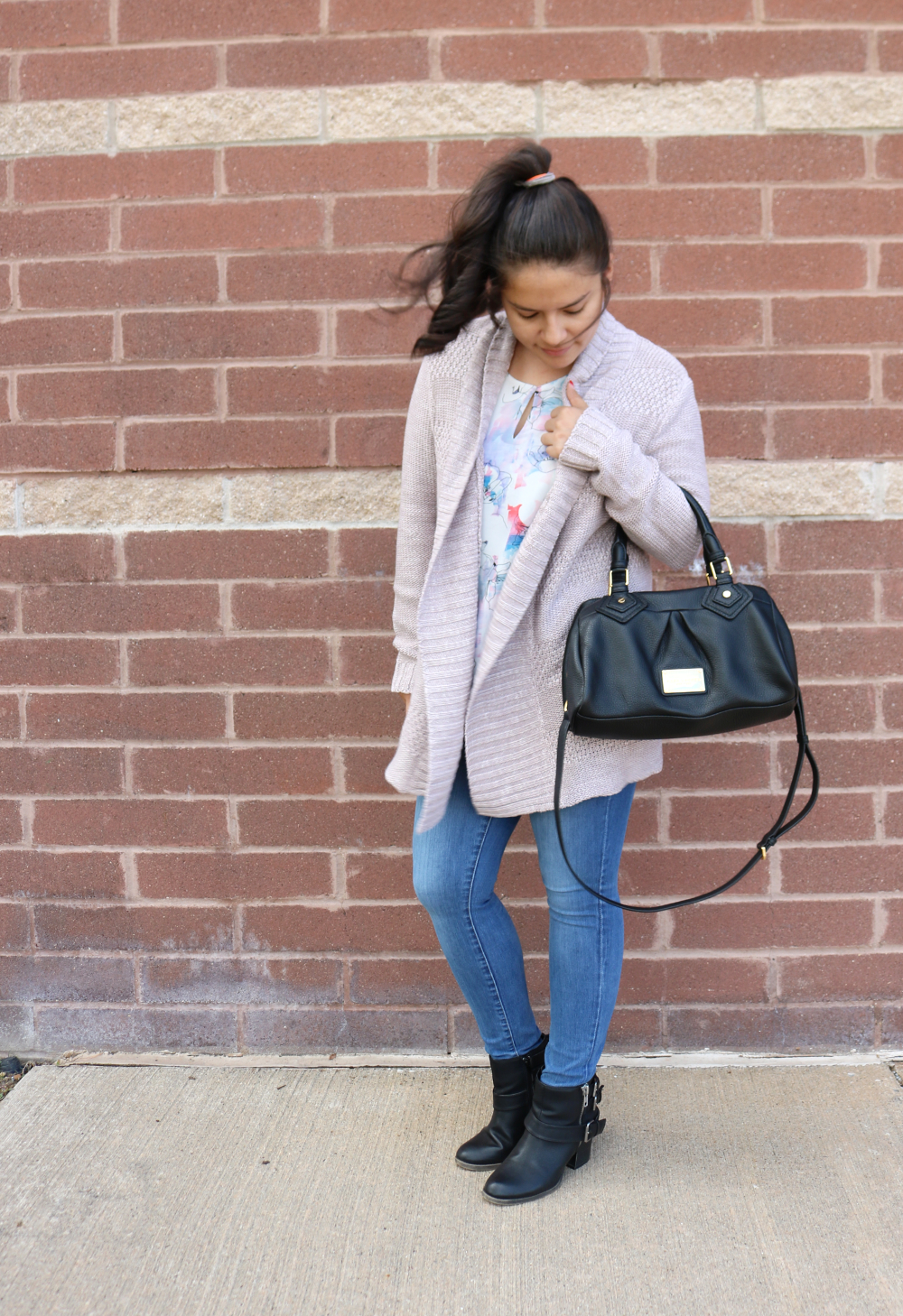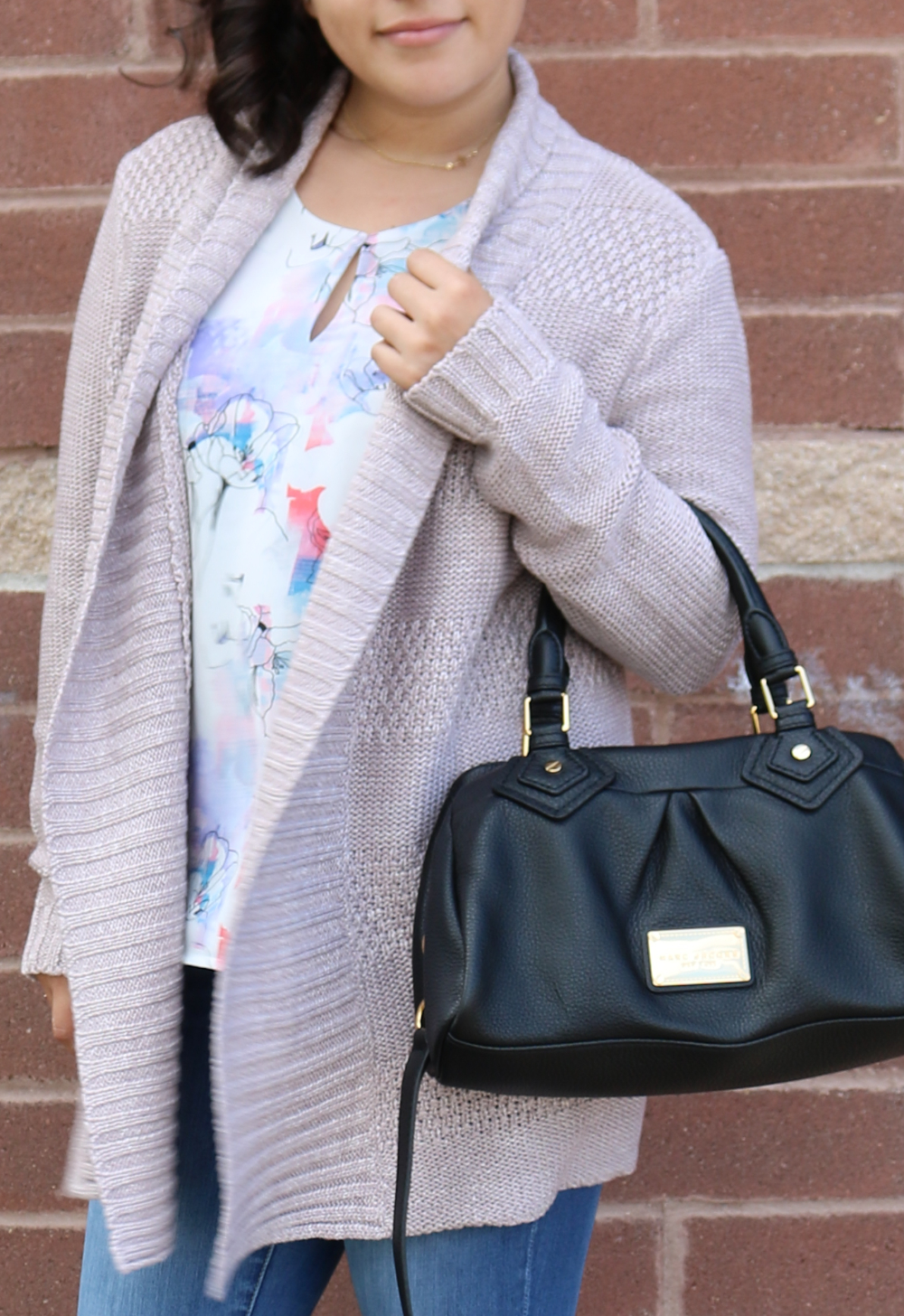 Necklace | Cardigan (similar) | Black Satchel | Booties (similar)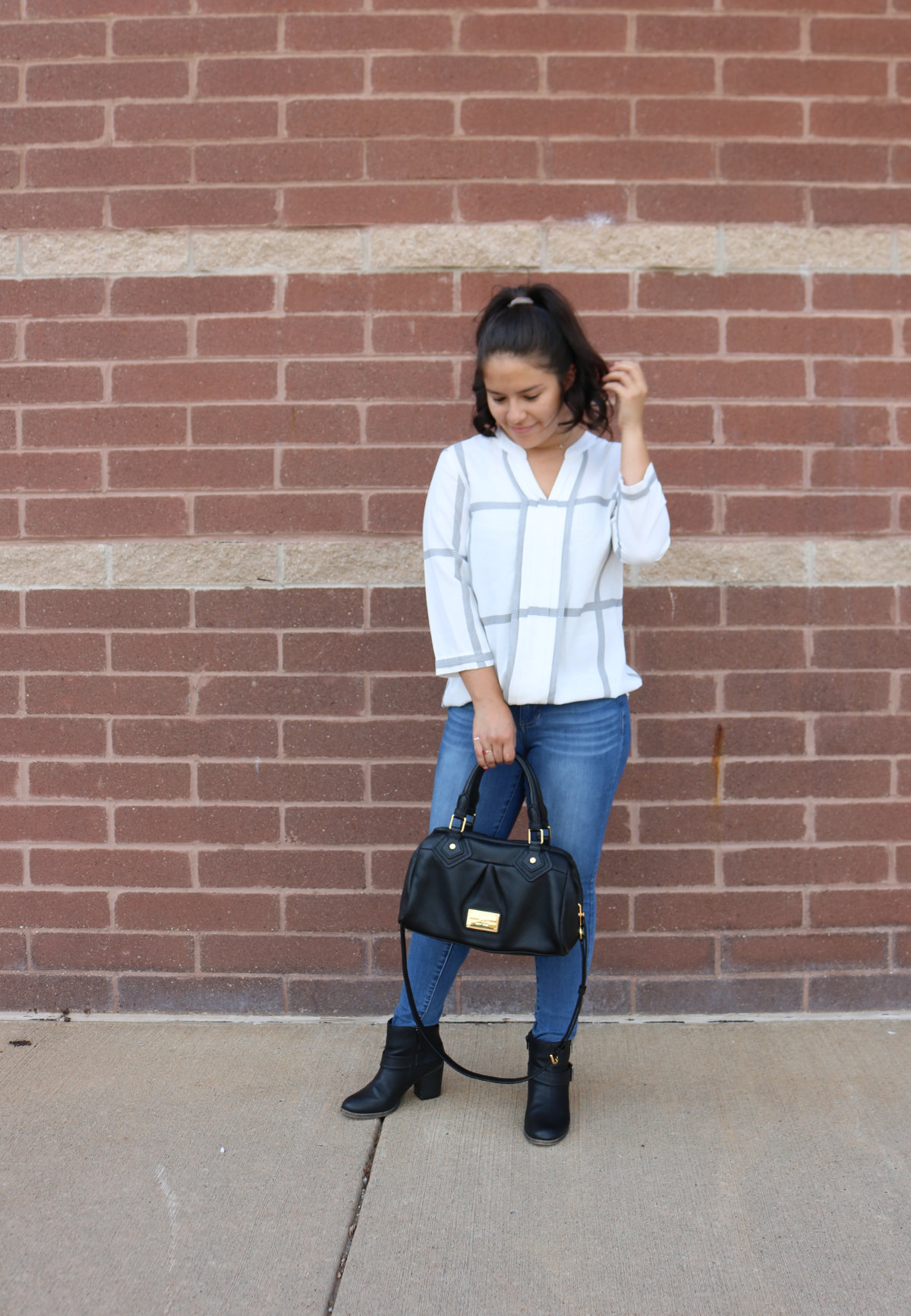 Blouse (similar) | Black Satchel | Skinny Jeans | Booties (similar)
Excuse the paint on my hands in some of the pictures. I'm in the middle of painting all of the trim in the house because it's currently brown and doesn't match the baseboards.
The Verdict
I didn't keep anything from my Stitch Fix box this month because I had similar items already. The v-neck blouse is gorgeous and perfect for work, but I couldn't exchange it for a bigger size. You can request any of these items from your stylist:
Street Level Adley Tassel Crossbody
Honey Punch Rivington Textured Open Cardigan
41Hawthorn Juanis V-Neck Blouse
Skies Are Blue Foxx Striped Slit Back Pullover
Bagatelle Raychel Faux Suede Moto Jacket
Everything I'm wearing is from Stitch Fix except for the black satchel (buy used here) and booties. As I look at my closet, most of the items are either from Stitch Fix or Trunk Club. I absolutely love not going to the mall and spending hours trying on different clothes. If you want to save some time, go check out Stitch Fix or Trunk Club. And if you want to rent designer jewelry, try Rocksbox for FREE when you use ADRIANADBFF3 during signup!