I don't know about you, but I'm thoroughly enjoying these lazy cold winter days. I can just stay home and do nothing! All the housework that needs to get done is future Adriana's problem… 🙂 I decided to add some spice to my winter staycation by asking my Stitch Fix stylist for some casual wear since I'll be staying in for the next few weeks. It's the perfect way to lounge around in style and spend quality time with Netflix… and Kyle, I guess.
This post contains affiliate links. I earn a small commission (at no extra cost to you) for each purchase made through my links. Rest assured! I only share links to products and services I use and love. Thank you for supporting Bold Aesthetic!
Stitch Fix Review #19
Stitch Fix is a personal styling service that allows you to try on new trendy clothes in the comfort of your own home. After completing the short online questionnaire, you can schedule a clothing shipment for a $20 styling fee. Your personal stylist will choose five items based off your style preferences and send them to you. Pay for what you love and send back the rest in the prepaid envelope provided – the $20 styling fee is deducted from your total. If you decide to keep all five items, then you get an additional 25% OFF!
Stitch Fix is intended to help you create a wardrobe you love by sending you styles perfect for your physique. If you want to give it a try, please consider using my referral link – it will waive the $20 styling fee for your first shipment! Otherwise, keep reading to see the items I received this month.
Liverpool Kay Skinny Jean ($88)
Stitch Fix is worth trying just for the jeans! I'm 5'1" and the petite sizes fit me perfectly. They're great quality and I don't need to get them hemmed. I still cuff them when I'm wearing ankle booties, though 😉 I'm wearing these jeans in all the following pictures so, needless to say, these were definitely a keeper.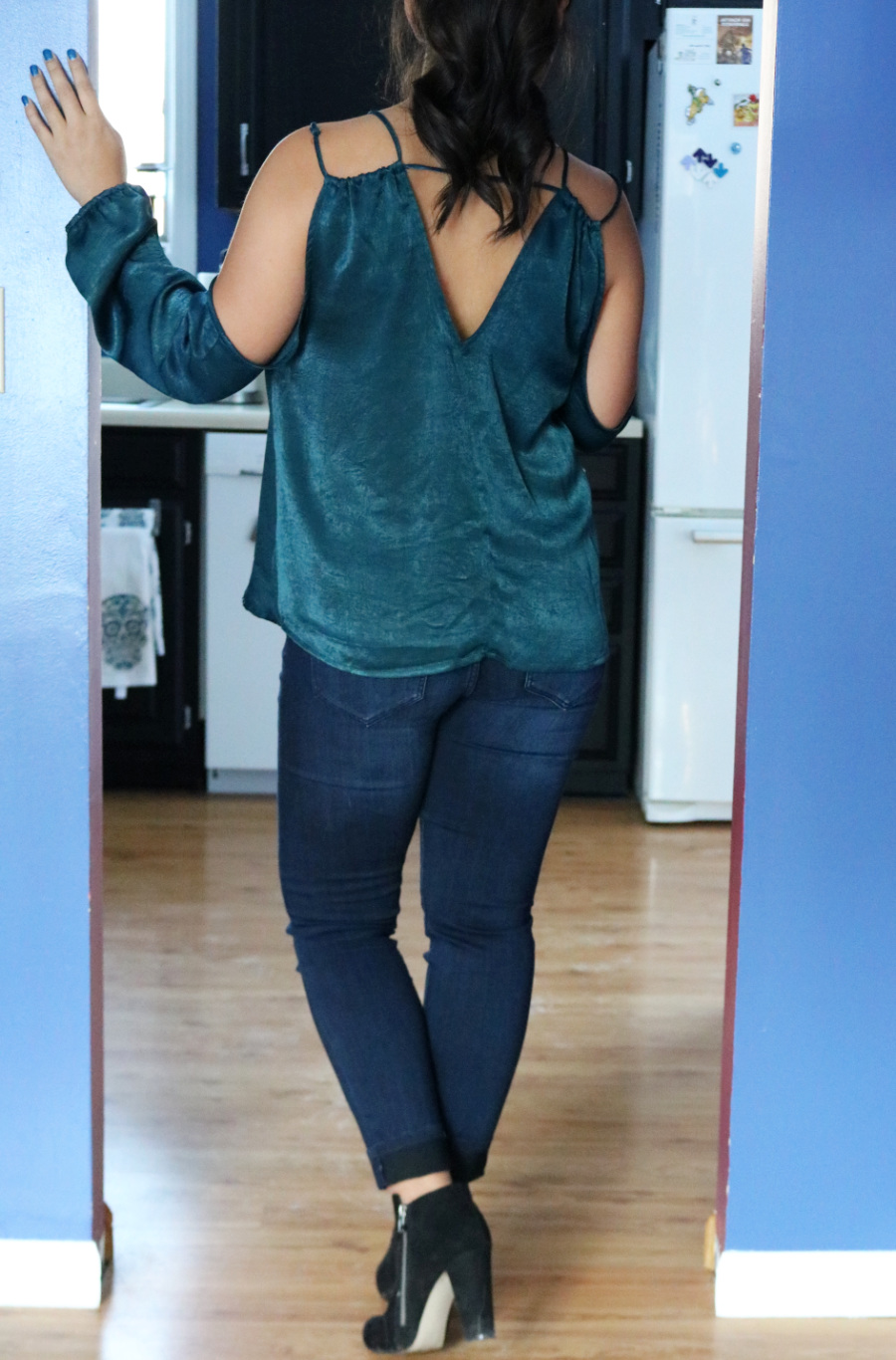 Renee C Aubree Striped Elbow Patch Pullover ($54)
Stripes never go out of style! This traditional black and white striped pullover has suede-like elbow patches to mix things up a bit. Personally, I don't care for the patches, but it was fun to try on and the fit was perfect.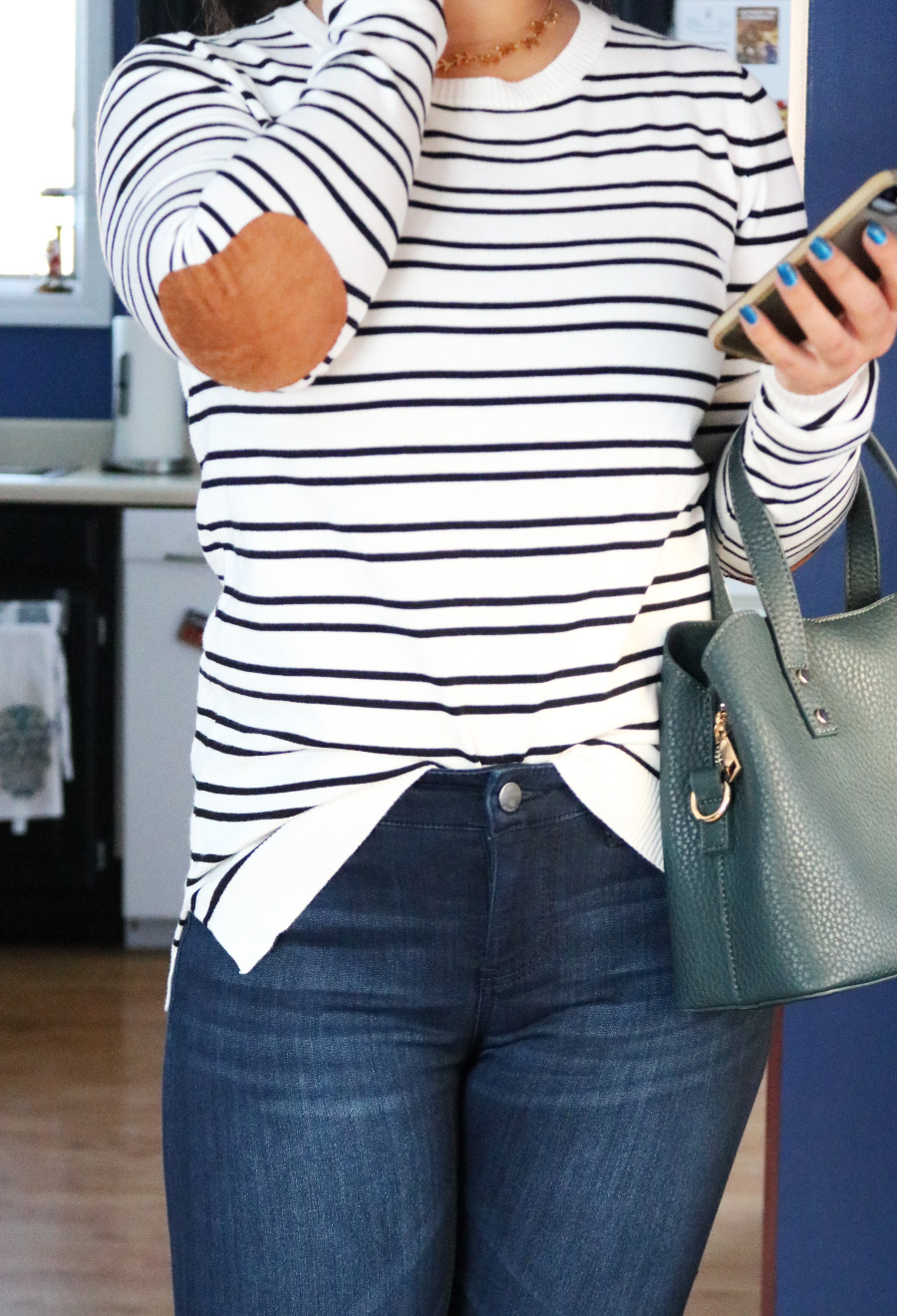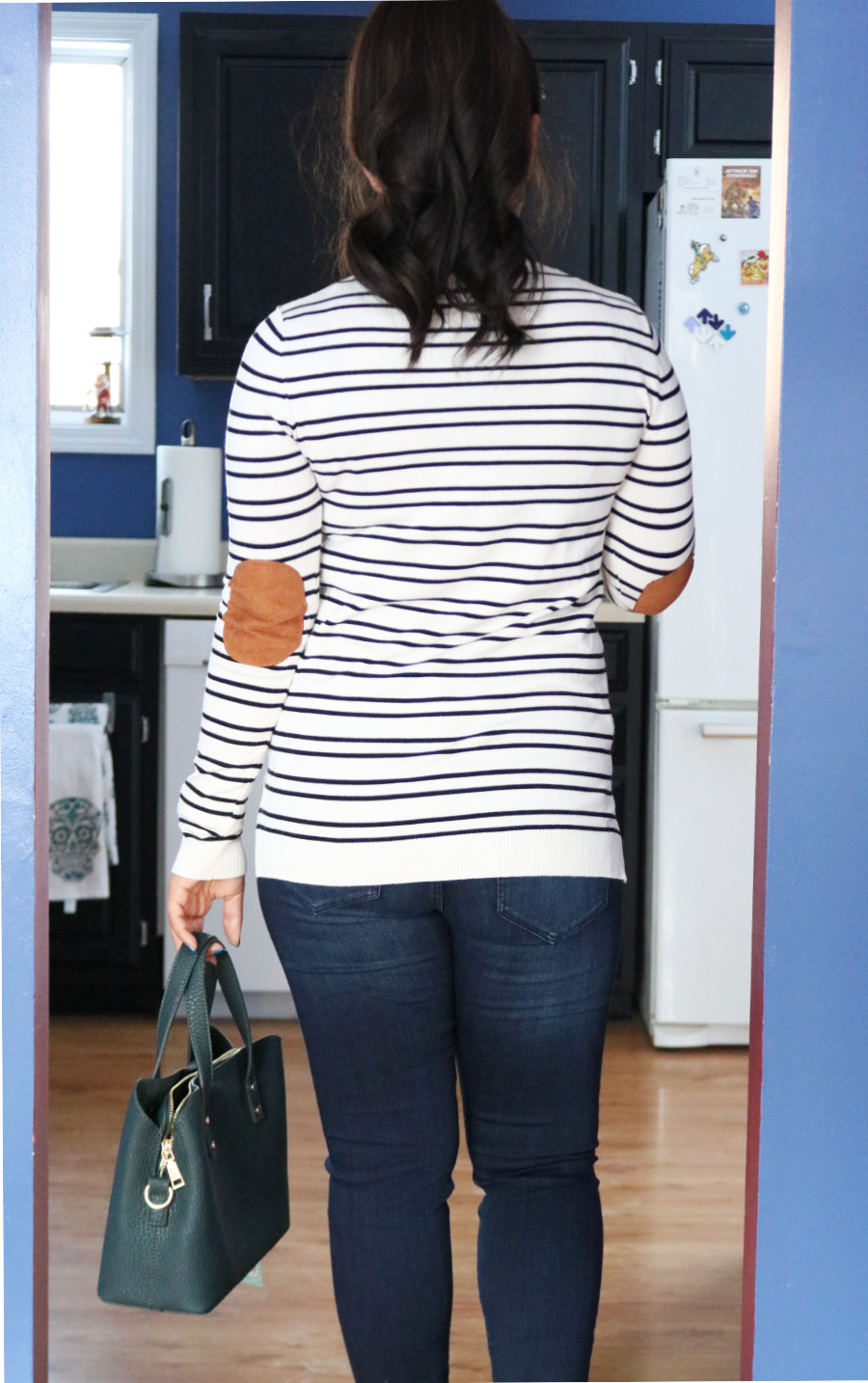 The crew-neck is great for wearing choker necklaces which are really popular right now. I'm wearing my Gorjana Goddess necklace from Rocksbox. It's my favorite necklace because it adds a touch of class to any outfit. Get your first month of Rocksbox FREE when you use my discount code ADRIANADBFF3 at checkout!
En Elly Juliet Cold Shoulder Satin Blouse ($54)
Cold shoulder tops are my jam! My Trunk Club Women stylist sent me my first one and now I'm obsessed. The cold shoulder blouse style was new for me and it definitely did not disappoint. The fabric felt like heaven against my skin and the back of the blouse has a flattering v-cut.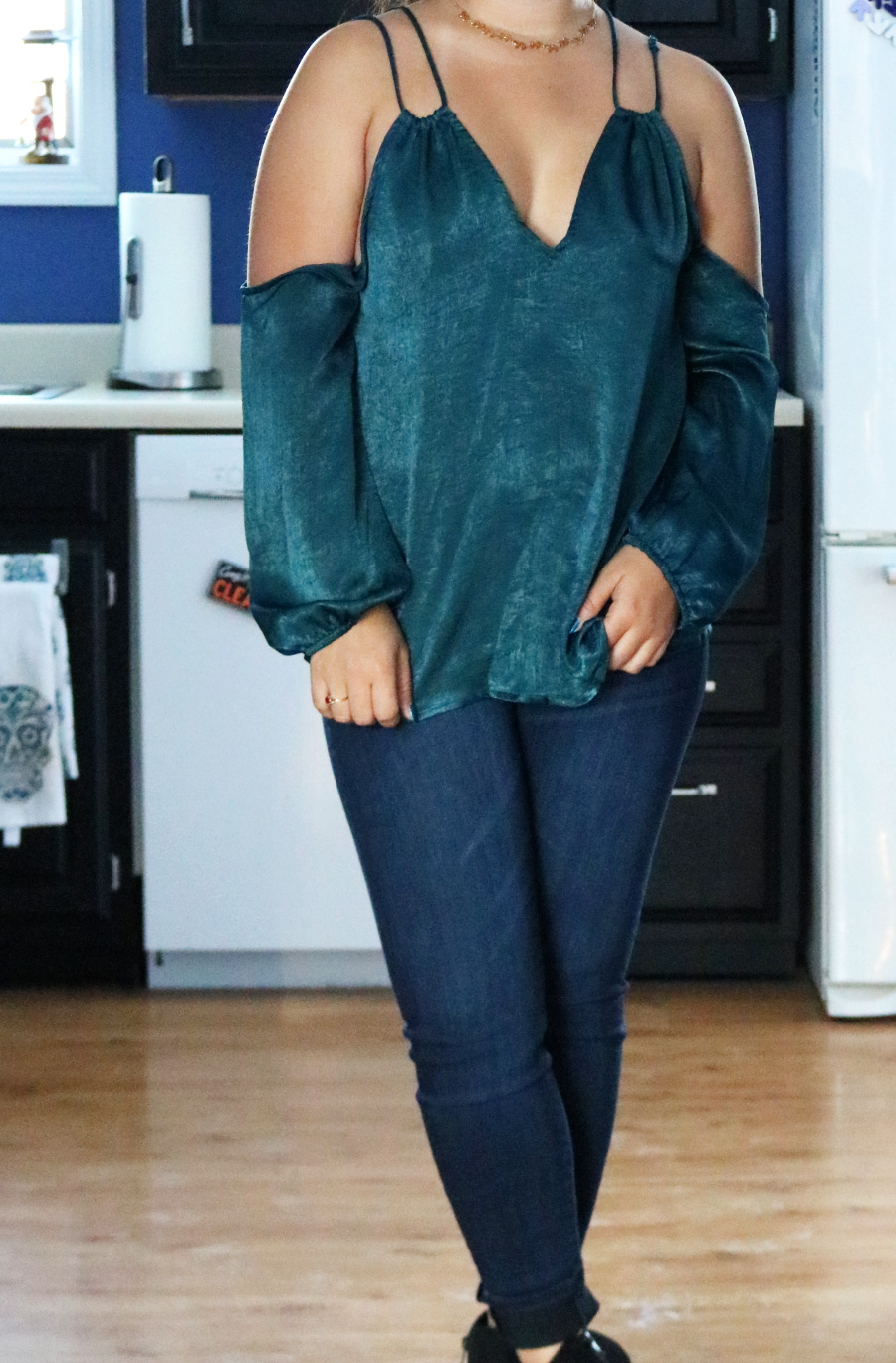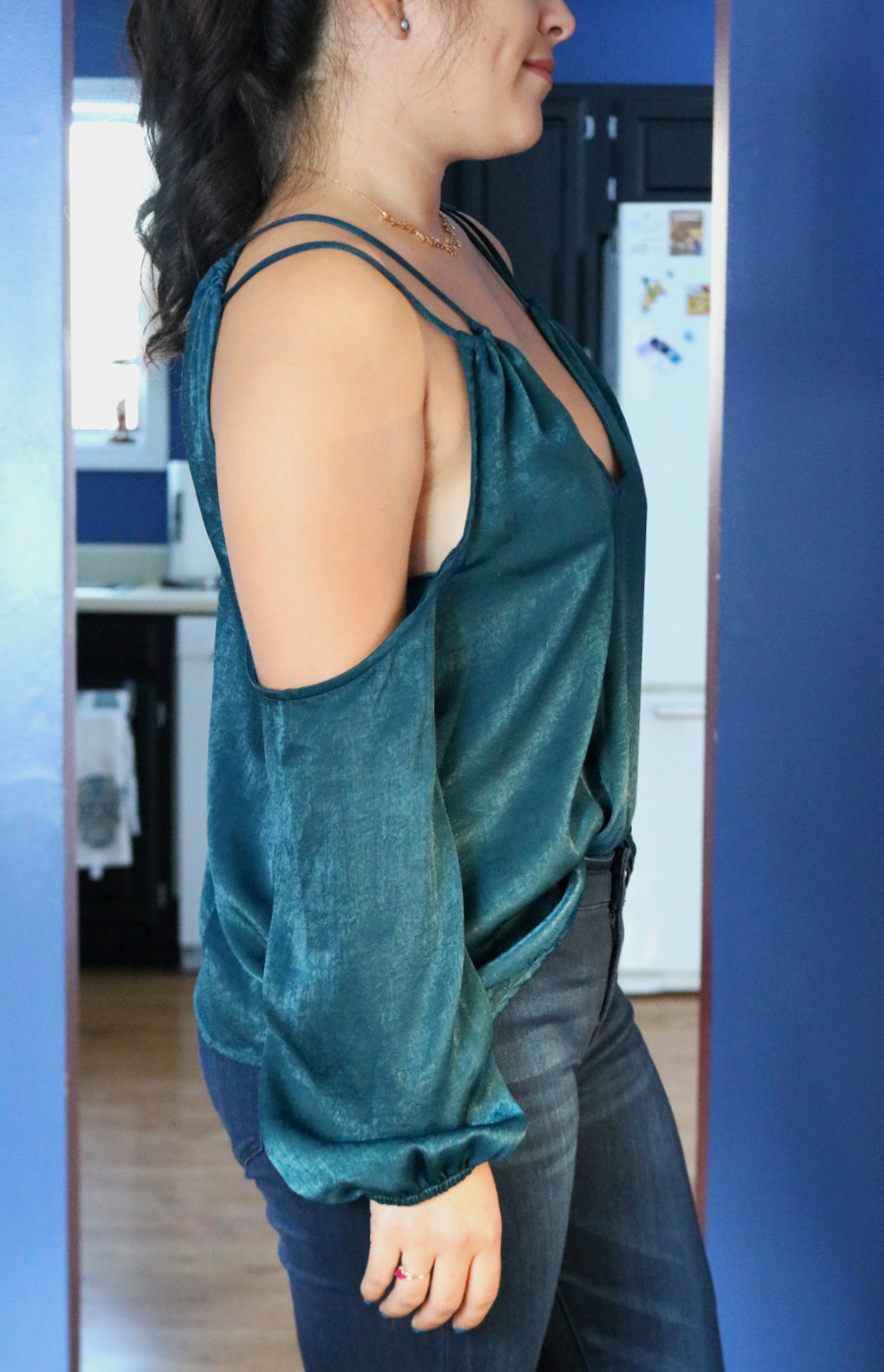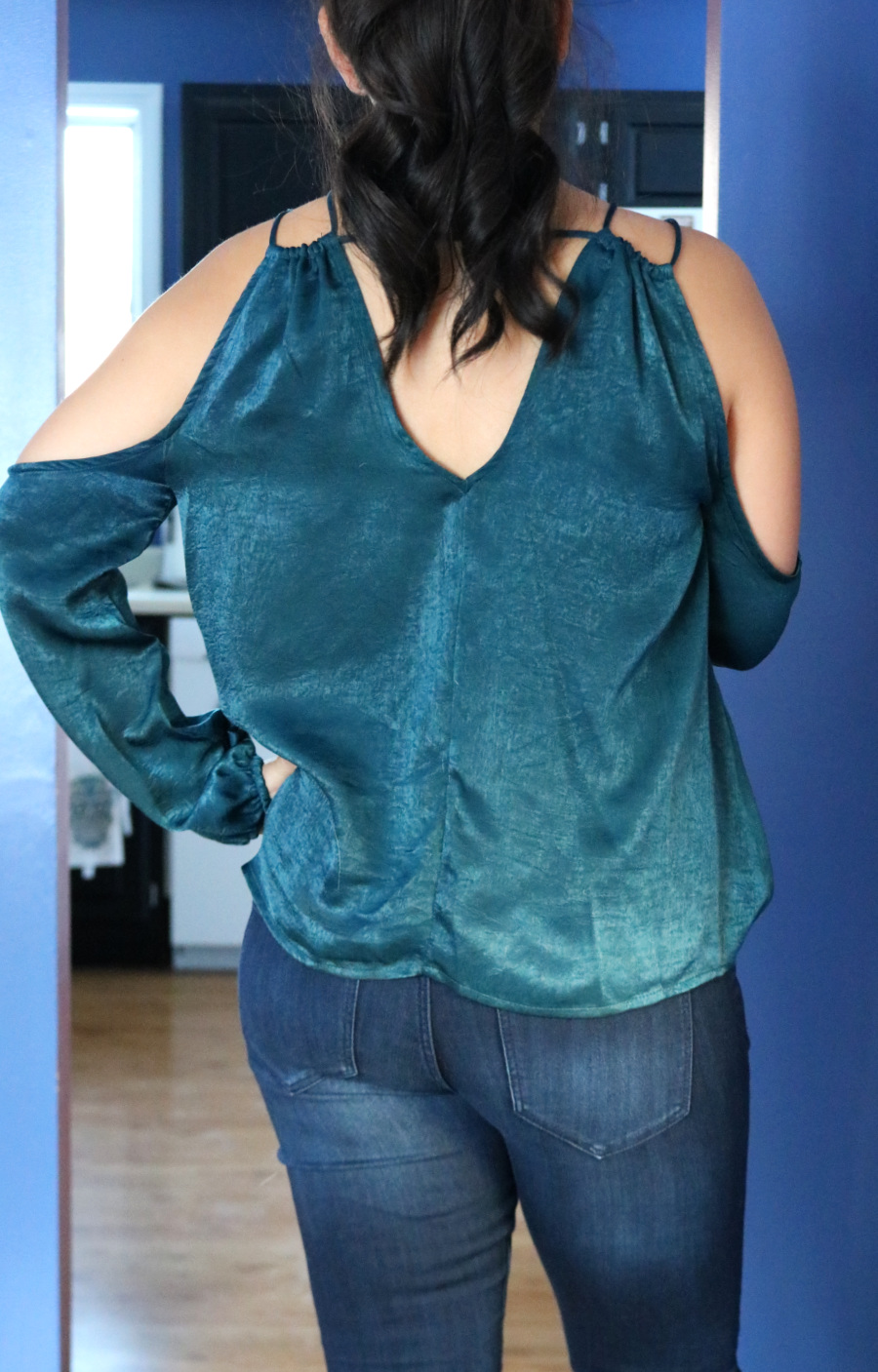 I asked Caroline to add some emerald green items because I want to add color to my neutral wardrobe, but this is a bit dark. Looks like I'm still waiting for the perfect shade of green.
Urban Expressions Elisa Triple Compartment Satchel ($48)
The perfect everyday bag has a compartment for everything. The more pockets and zippers, the better. This satchel has three sections and the interior zip pocket is soft suede. It also comes with a shoulder strap so you can wear it as a crossbody!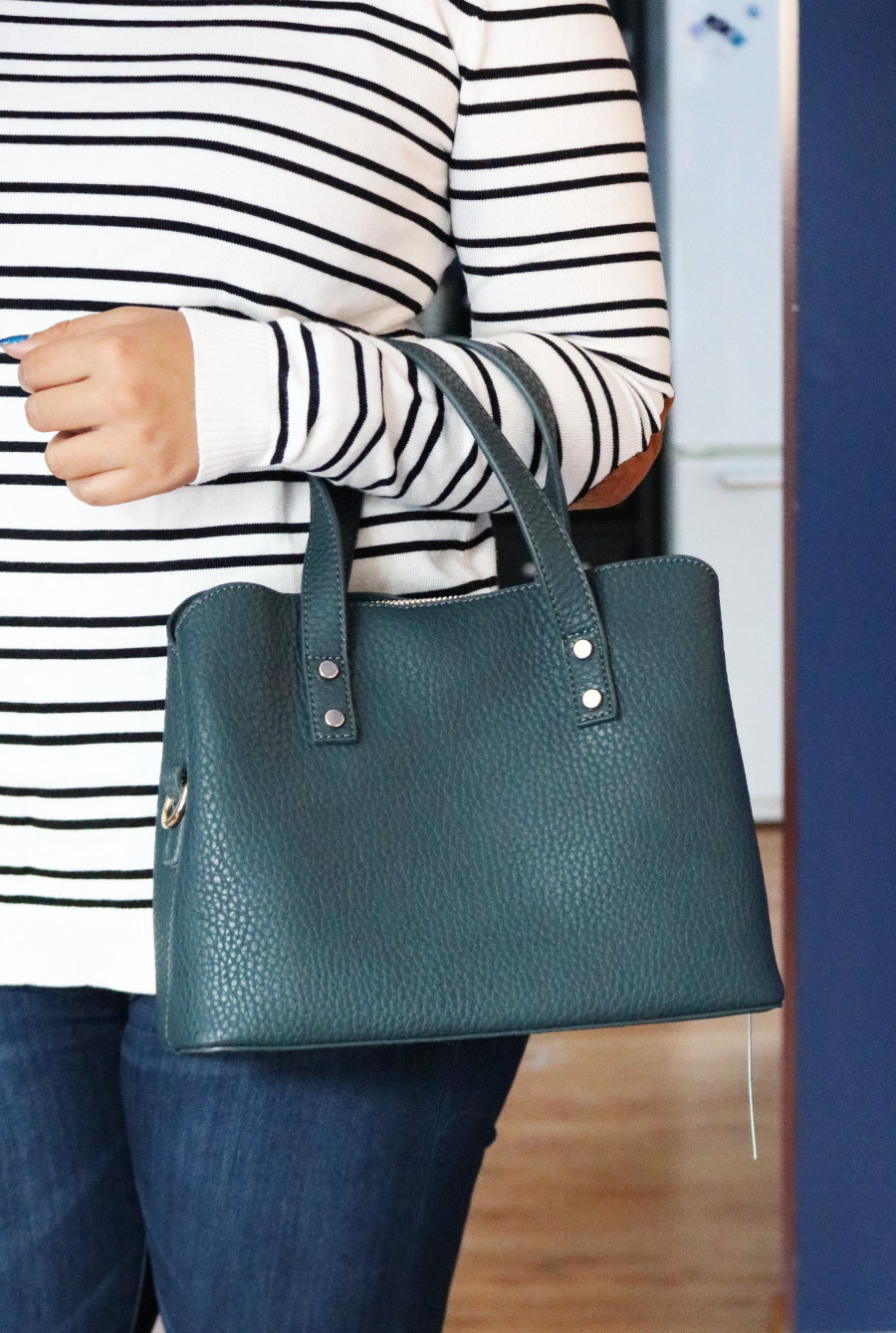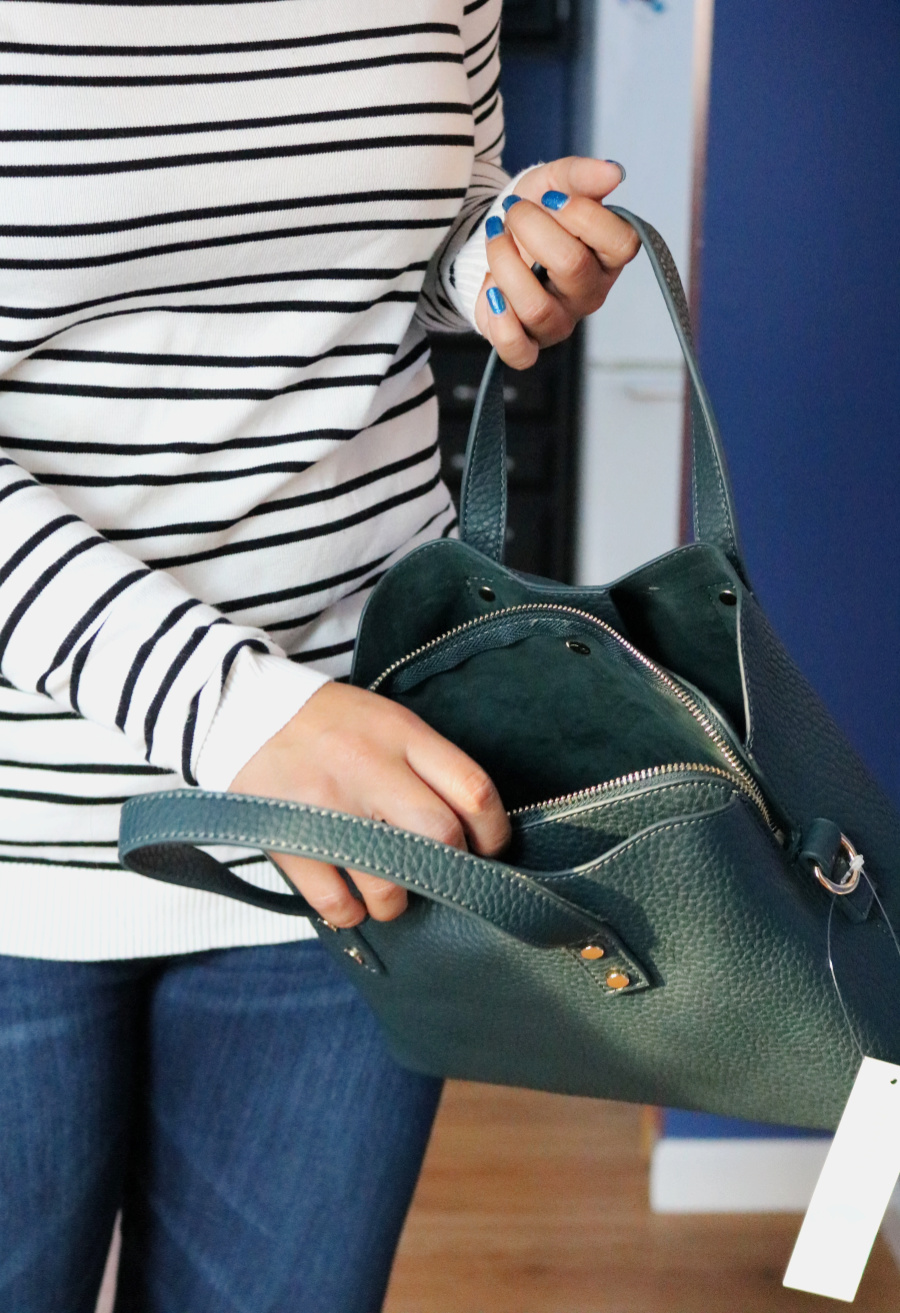 In general, I prefer purses with drop handles, otherwise they stand straight up when you're wearing a crossbody. It just bothers me, personally, but it's a great bag overall!
Loveappella Tamar Hoodie ($58)
My favorite item this month is this color block hoodie. The fabric is soft and the sleeves have thumb holes! I've seen different color combinations on Pinterest, but I love the neutral look.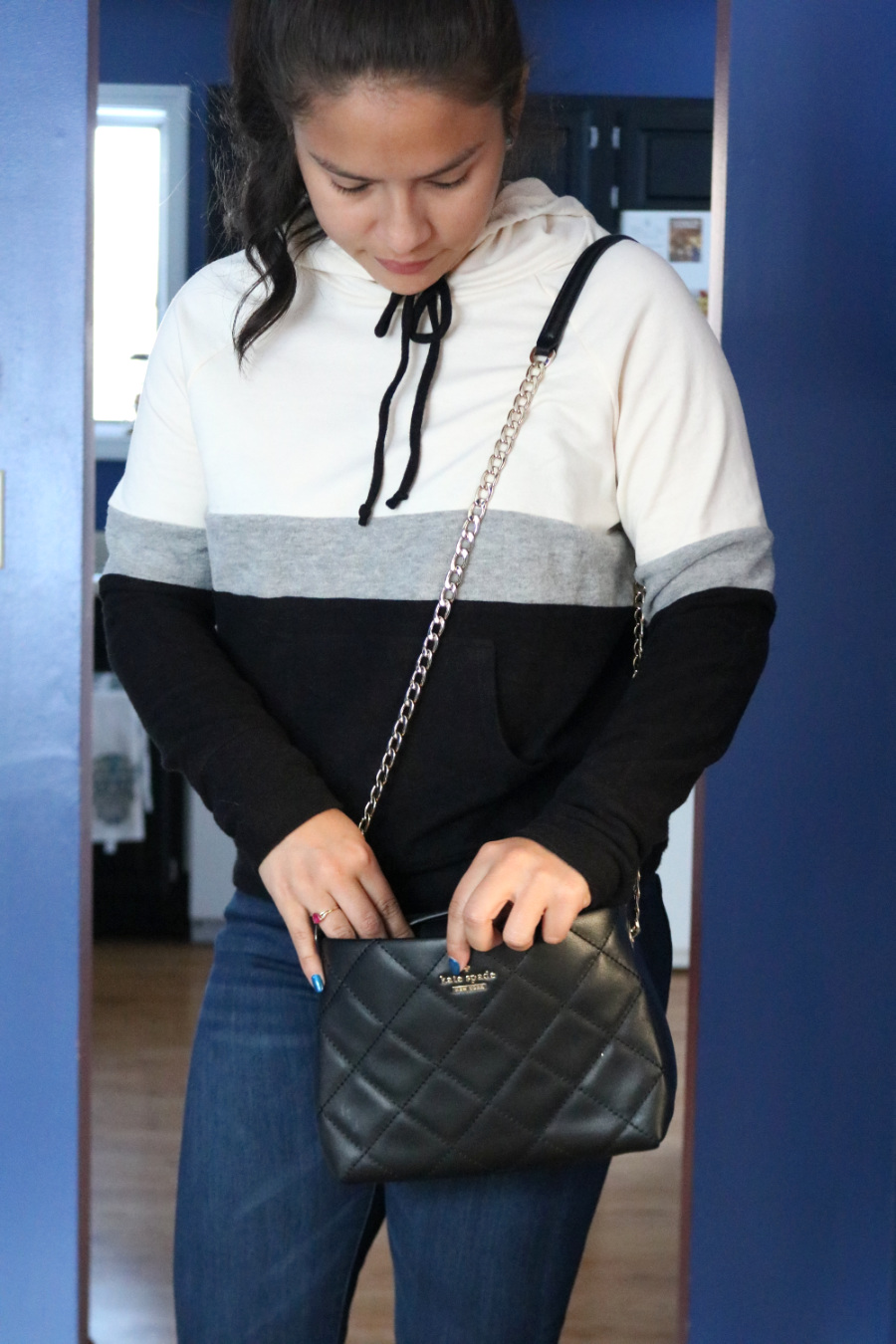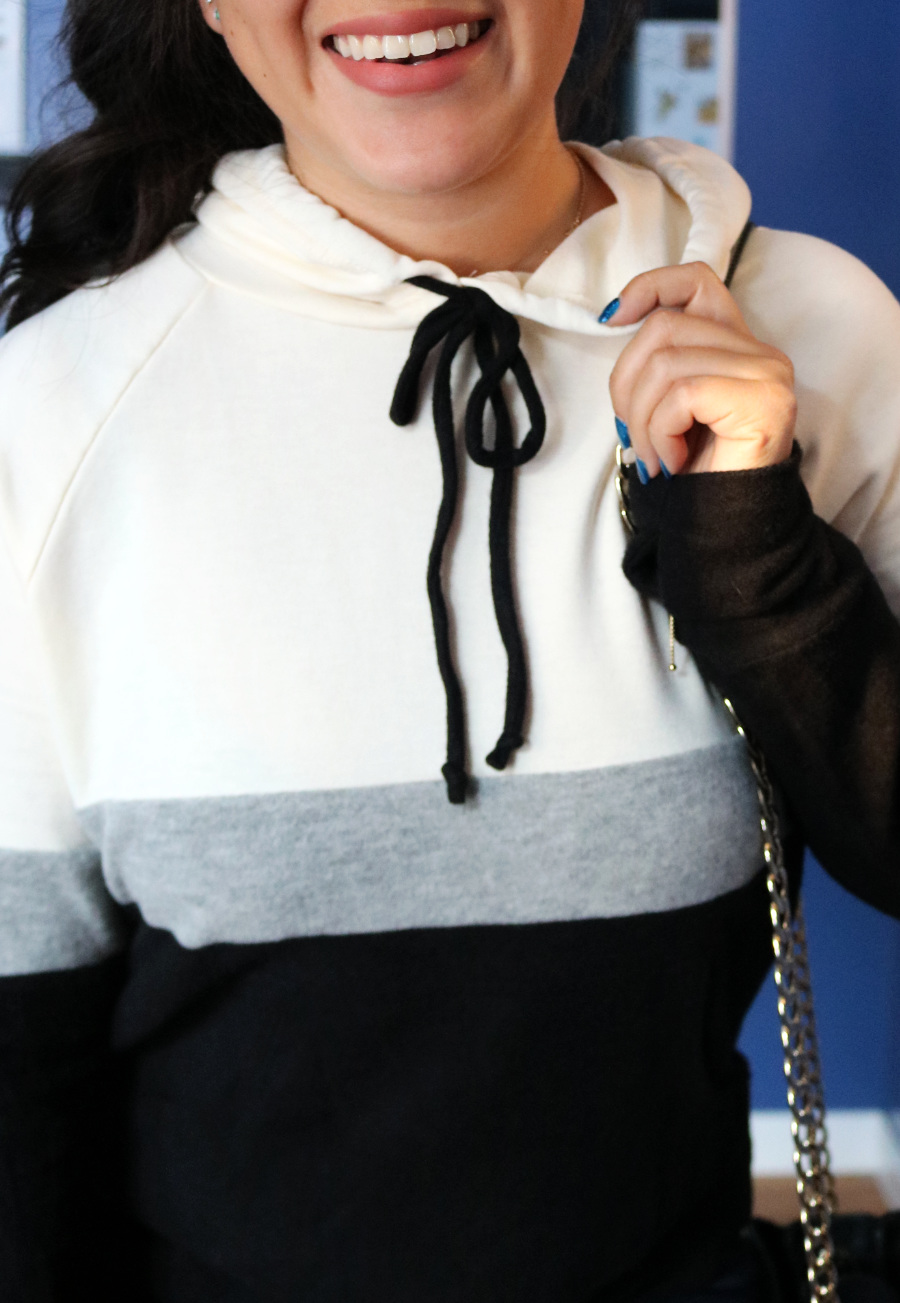 Seriously, this is the most comfortable hoodie I've ever worn and it's perfect for running errands. Plus, I can dress it up with my new Kate Spade Emerson purse 😉
What's the Verdict?
The jeans are perfect! I'll be wearing them well into the summer. The "emerald" green blouse and satchel Caroline sent are a bit too dark for what I want, so I'm still on the search for some color. Still not a fan of the elbow patches…..
Liverpool Kay Skinny Jean – KEEP
Renee C Aubree Striped Elbow Patch Pullover – RETURN
En Elly Juliet Cold Shoulder Satin Blouse – RETURN
Urban Expressions Elisa Triple Compartment Satchel – RETURN
Loveappella Tamar Hoodie – KEEP
What do you guys think about satin blouse? Any ideas where I can get perfect jeans for a wallet-friendly price? Let me know! I'll be over here breaking-in my new neutral color block hoodie 🙂