I just purchased my annual Style Pass with Stitch Fix which means I get a full year of shipments with no styling fee! Hooray! I asked my personal stylist, Caroline, for the trendiest items she could find regardless of my style and price preferences. I hope she sent me some pieces to help me transition into spring…
This post contains affiliate links. I earn a small commission (at no extra cost to you) for each purchase made through my links. Rest assured! I only share links to products and services I use and love. Thank you for supporting Bold Aesthetic!
Stitch Fix Review #20
Caroline does a pretty great job styling me because she's sent me about 10 Fixes. She has a good handle on what I like because I always make sure to give her detailed feedback on EVERYTHING she sends me. After a few trials and errors, she now continuously sends me clothes that I can incorporate with things I already own. Sometimes she even calls out items from previous Fixes in her personal note! If you're interested in having Caroline style you, please don't hesitate to request her for your next Fix! Now let's take a look at what she sent…
Toms Desert Wedge Booties
The first thing I tried on were the Toms Desert Wedge Booties. They're the perfect shade of taupe and fall perfectly in line with the new dress code at my workplace. I love that they have the classic Toms design with the diagonal toe crease.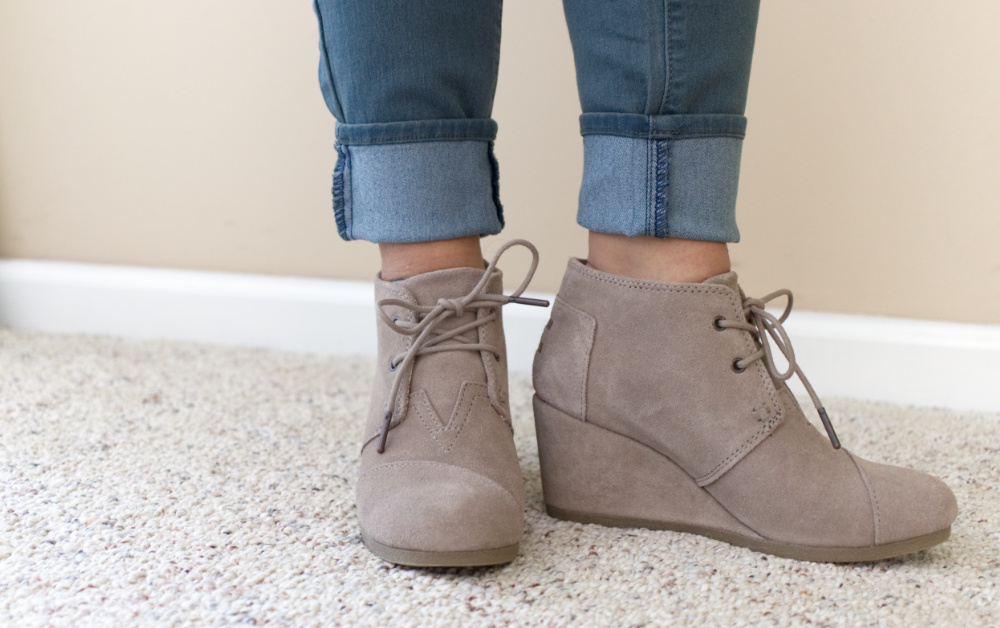 Strut & Bolt Blouse & Just Black Jeans
Asymmetrical designs are popular because they make simple items chic. Just look at the Strut & Bolt Lapez Asymmetrical Wrap Blouse! It's an elegant black blouse, but with a twist. The sleeves are a bit too long for me, but I love how the fabric looks draped on my torso. Caroline said I should wear the Strut & Bolt blouse with the Just Black jeans and TOMS desert wedge booties, but the outfit doesn't really impress me. Who decided it was a good idea to make the front pockets on jeans fake?
If you're wondering about the frames behind me, then you should check out how I created a vinyl record album collage in my living room!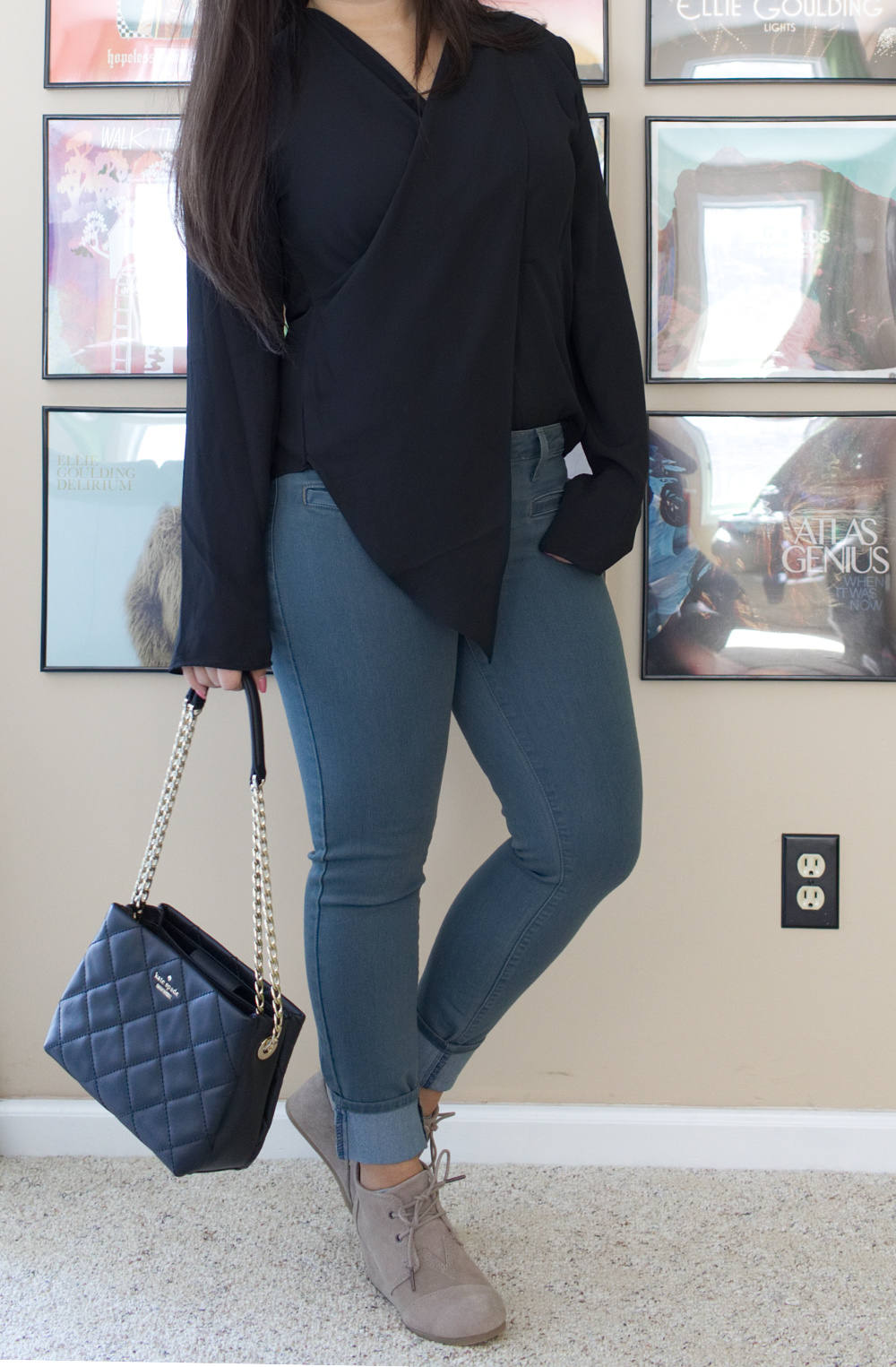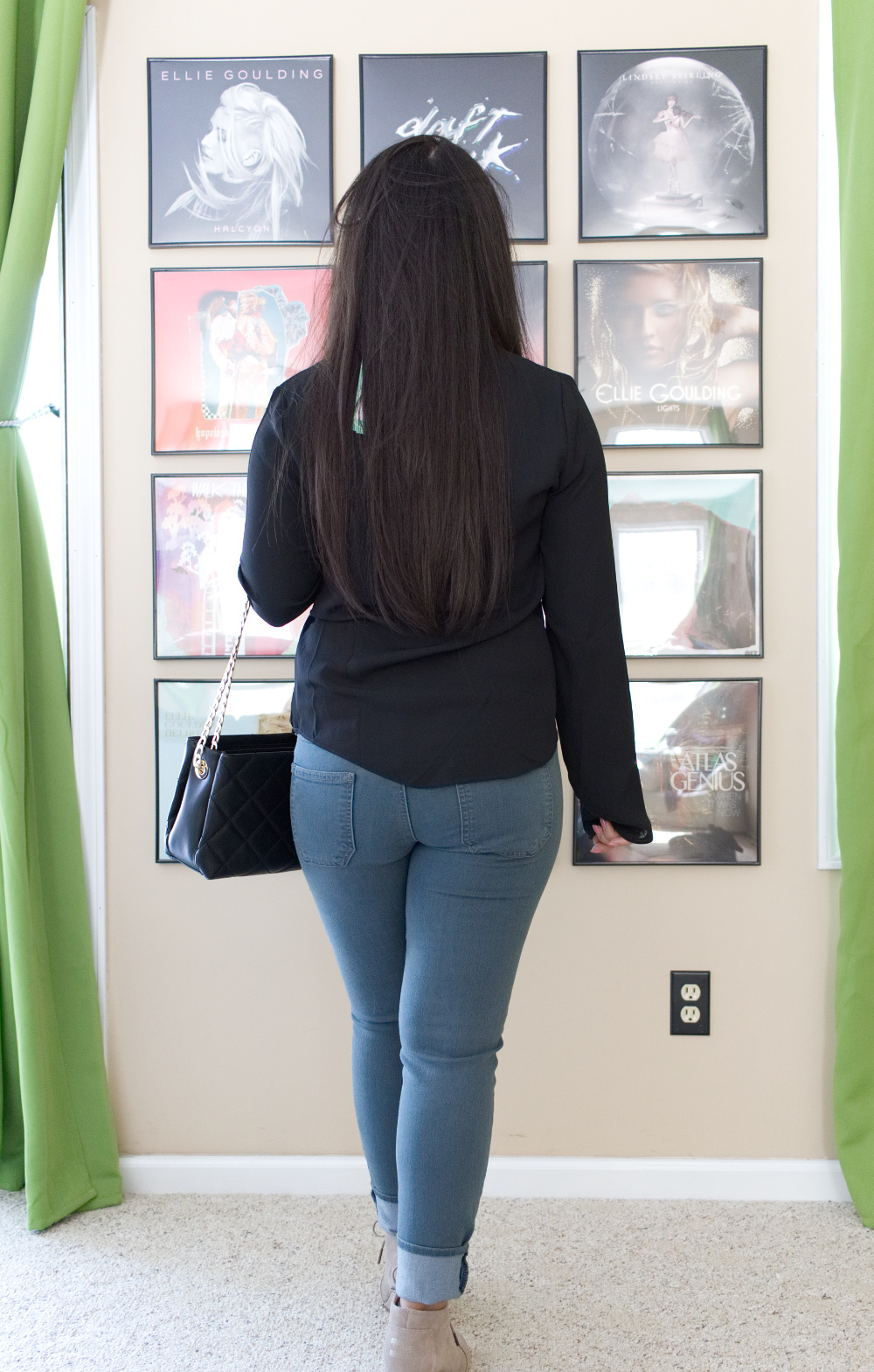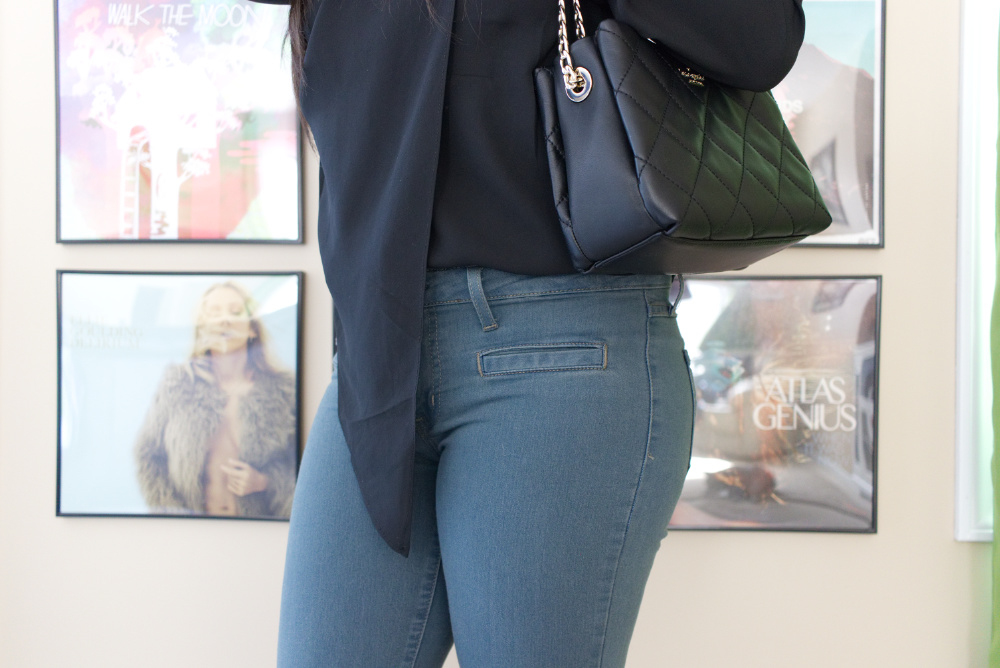 SHOP THE OUTFIT
Linea Pelle Crossbody & Marc New York Jacket
I wore the Marc New York jacket with the TOMS desert wedge booties, a plain white tee, and distressed denim for a laid back look like Caroline suggested and it DID NOT disappoint. The moto jacket is a dream! It makes me look like a total badass and it's perfect for motorcycle rides with Kyle.
The mustard Linea Pelle Carmen Whipstitch Crossbody is totally adorable, but I've been moving away from crossbody bags and toward larger shoulder bags that can carry all of the things. I really like that it easily transitions to a clutch by removing the strap. BTW if you're dying to know where I got my gold flower drop earrings, the answer is Rocksbox. Get your first month FREE when you use my discount code ADRIANADBFF3 during signup!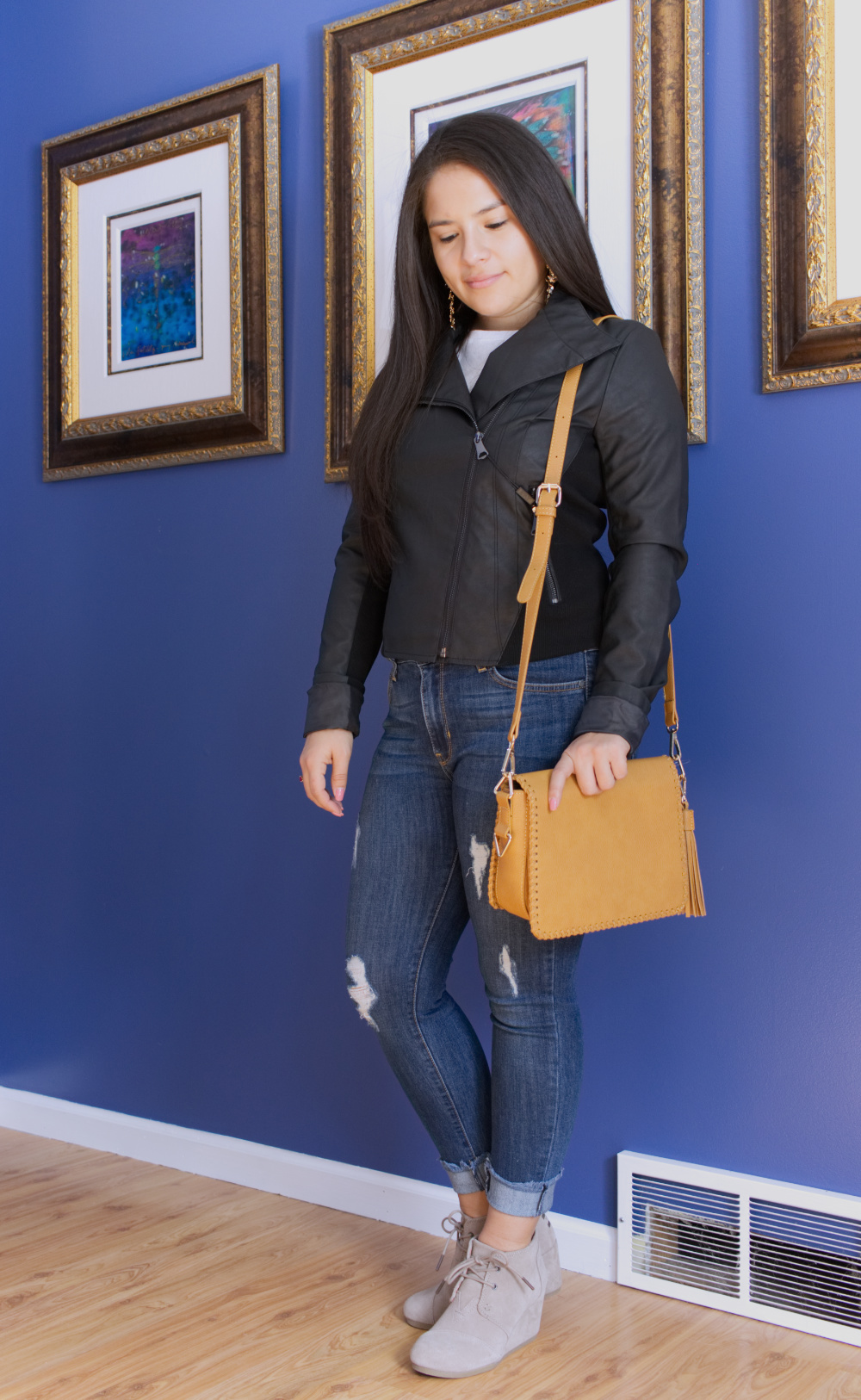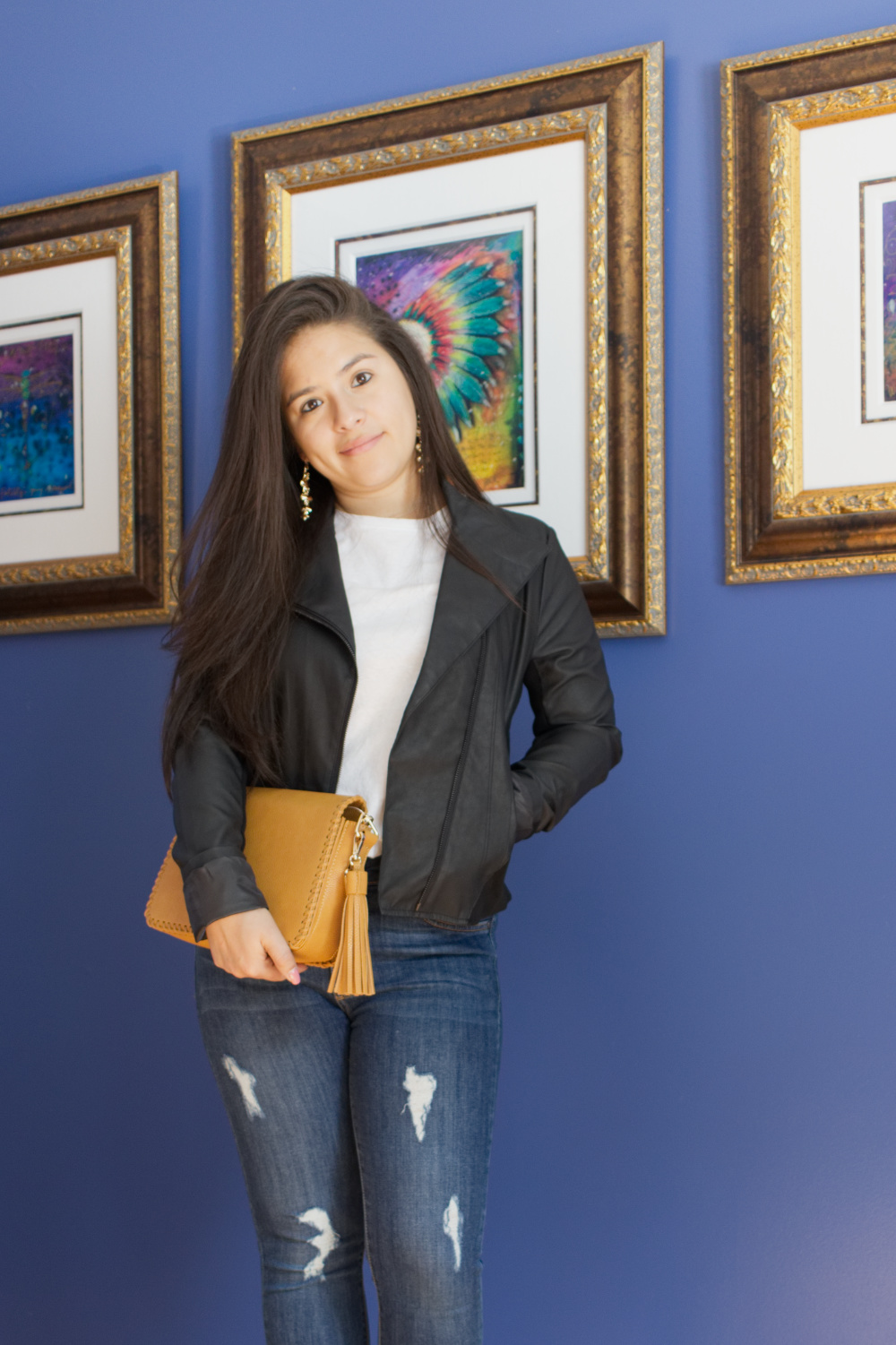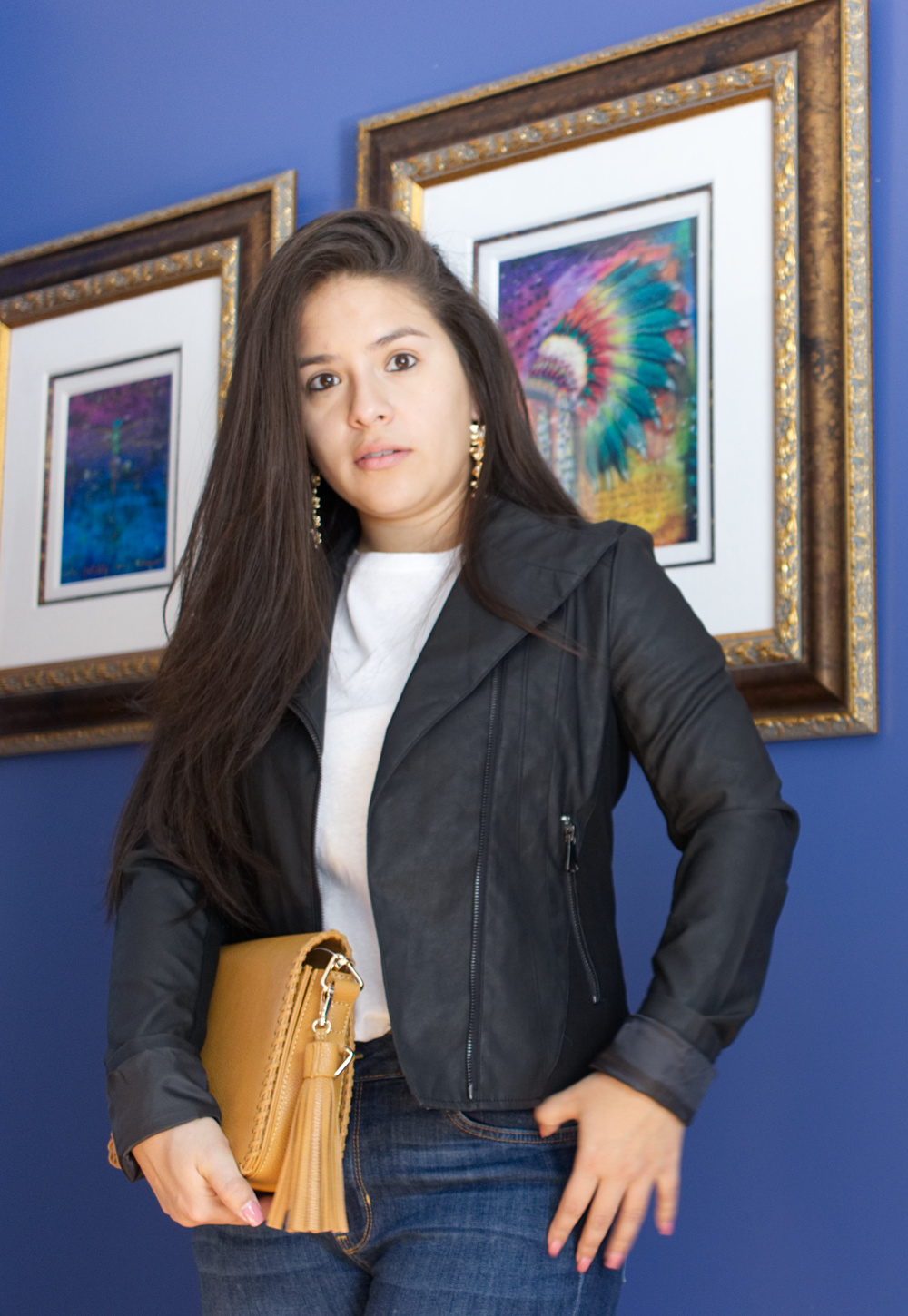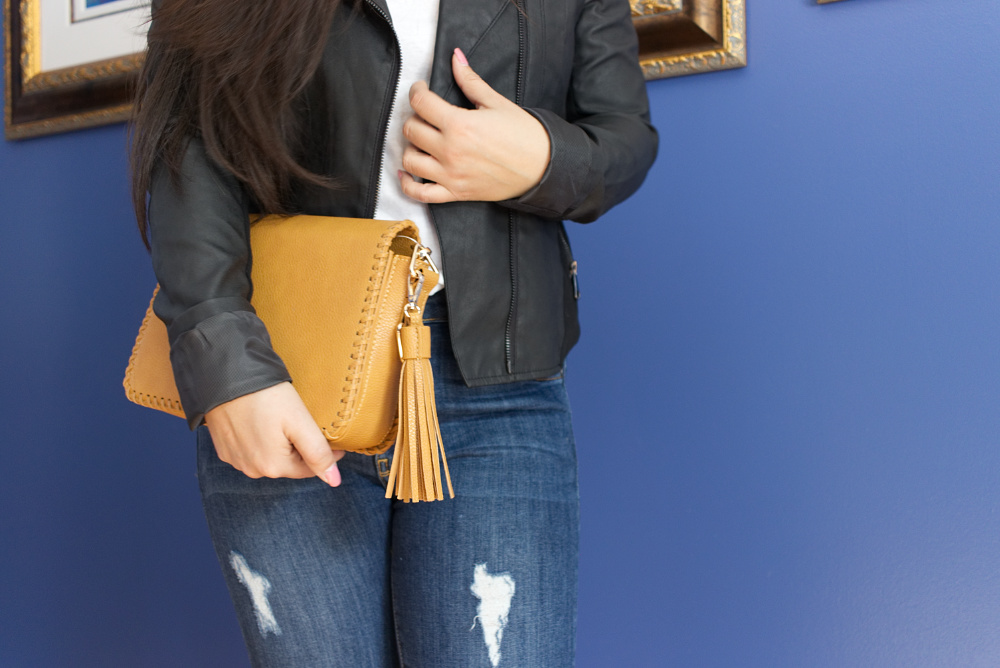 SHOP THE OUTFIT
Verdict
I was so happy with everything Caroline sent me, but the moto jacket is definitely my favorite! The jeans are a good fit but the color isn't appealing to me and the front pockets look like rear pockets.
Thanks for stopping by!
Adriana